Weather of Arabia - The developed Chronos system in Arab weather shows temperatures are very high and forty in large parts of the southeast of the European continent, as a result of the impact of the general Balkan countries, western Turkey and the southern parts of Italy by a very hot air mass rushing from the African desert, so that temperatures rose to Forty levels, and the prevalence of hot and exhausting weather in those areas.
When reviewing the prevailing temperatures in the European continent at the moment of preparing the report, on the contrary, large parts of the north and west of the old continent are affected by a series of cold air masses, as an atmosphere close to winter prevails in those areas, which contributed to the inventory of the hot air mass for a long time. In the southeastern regions of Europe, these regions suffer from both, as the continuation of the effect of the hot air mass for a long time leads to the feeling of heat.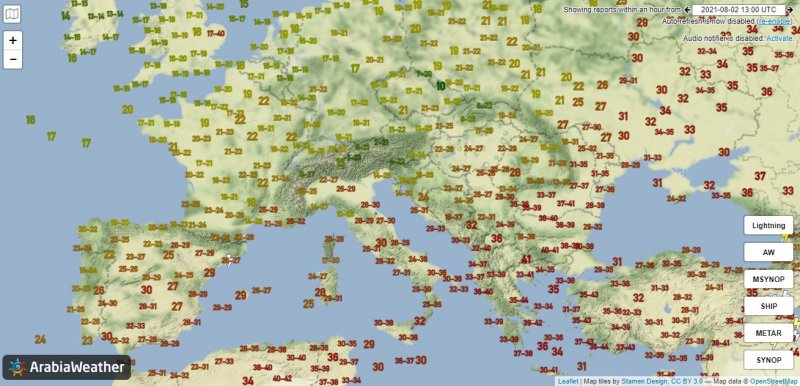 Looking closely at the temperatures currently recorded in Greece, for example, the Larissa region is currently recording temperatures of approximately 44 degrees Celsius , as the Larissa region is adjacent to the Pindos mountain range, which contributed to an increase in the recorded temperatures through the descent of winds from the mountain peaks towards the region Low Larissa, and therefore the emergence of the Fohn phenomenon in this region, will not be difficult to happen.
Returning to the climatic records, in 1977 the Greek capital, Athens, recorded the highest temperature in the country's climatic records at 48 degrees Celsius, which follows the so-called climate cycle, where ancient and documented historical records in international agencies show that the Earth's climate over hundreds of years It is affected by several natural cycles represented by rising temperatures and increasing solar radiation in regions without the other. These climatic cycles result in a change in the prevailing weather in regions without others, for example, weather conditions increase in one region and decrease in others.
This article was written originally in Arabic and is translated using a 3rd party automated service. ArabiaWeather is not responsible for any grammatical errors whatsoever.