Weather of Arabia - Sinan Khalaf - a state of stability and consensus among numerical models that still heralds the impact of the city of Jeddah on Friday in a state of air instability, accompanied by lightning, thunder, rain, and surface wind activity, God willing.
Rainy condition of moderate intensity
Cold air front and air turbulence accompanied by thunder
In the details, it is expected, God willing, that the unstable weather conditions will begin to affect the city of Jeddah weakly, starting from Thursday evening and Thursday / Friday night, and the chances of rain start locally and limited, but with the hours of the day on Friday, the chances of rain improve, especially with the afternoon hours, as the weather crosses The city of Jeddah is a cold, windy front that generates thunderstorm clouds and showers of rain, which are generally moderate.
Here, the staff notes to the interested and weather enthusiasts the need to follow the rain radar of the city of Jeddah , and satellite images to follow the evolution of thunderstorms moment by moment.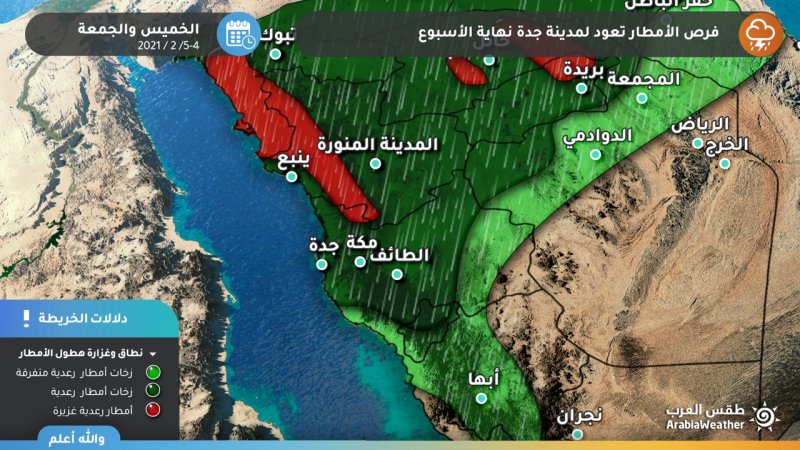 Strong southerly winds on Thursday
A turbulent sea and a large rise in the sea waves
These rain clouds are preceded by an active to strong southern winds on Thursday, which may bring some dirt and dust, which recede on Friday in conjunction with the increasing turbulence of the sea and the rise of waves significantly.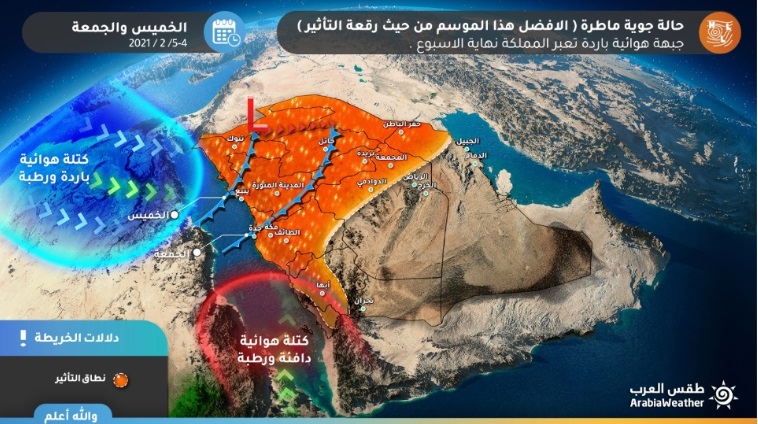 The scientific reasons behind this air turbulence
These air disturbances are caused by the approach of an air depression in the high air layers across Egypt and the eastern Mediterranean, in conjunction with the eruption of moist and warm subtropical currents from the southwest, and the displacement of the subtropical high altitude from the atmosphere of the north and west of the Arabian Peninsula.
This means an effective and strong response to the thermal Red Sea depression at dawn and Thursday morning, before it turns into a frontal depression during the day, and forms a cold air front that increases the strength of rain and intensifies the intensity of thunderstorms on the mountain heights and the western slopes in the west of Tabuk and the north of Medina, including some The coastal areas of Tabuk and the north of Medina to be precise.
This article was written originally in Arabic and is translated using a 3rd party automated service. ArabiaWeather is not responsible for any grammatical errors whatsoever.