Weather of Arabia - Visiting archaeological sites may be one of the most famous types of tourism, because it gives you a unique experience to see what man has made and convey to you the details of his life in ancient times that evolved until they shaped modern human history.
Jordan is considered one of the most important countries in which successive civilizations have left their mark in multiple regions, and while Petra is the most famous historical place in Jordan and one of the modern seven wonders of the world, there are six other important historical sites in Jordan that deserve to be added to your itinerary.
Jerash effects
Jerash lived its golden age during the Roman rule, and this city is nowadays one of the best preserved Roman cities in the world, and today it is one of the most famous tourist places in Jordan after Petra.
The ancient city of Jerash has important tourist attractions such as the amazing Hadrian's Arch , which was built in AD 129 to honor the visit of Emperor Hadrian. Nearby is the Hippodrome , which seats up to 15,000 spectators, and has hosted athletics and chariot races.
The Public Square is also one of the highlights of Jerash, being about 90 meters long and 80 meters wide. Add to these attractions the rolling city roads, hilltop temples, and magnificent theatres.
To visit the city of Jerash and see its wonderful monuments and nature reserve, see the details from here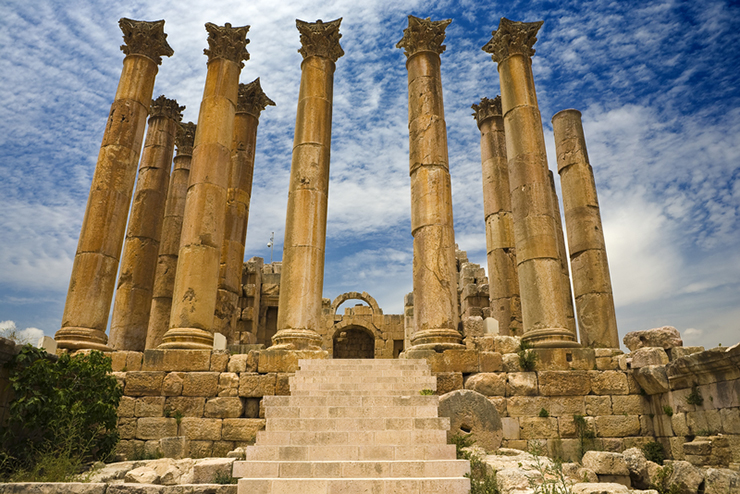 (Temple of Artemis in Jerash)
Ajloon Castle
Built nearly 1,000 years ago, this historic fortress sits on top of a hill known as Jabal Awf. The castle was an important link in a defensive chain thanks to its strategic location. Ajloun Castle overlooks the three main valleys leading into the Jordan Valley.
Nowadays, Ajloun Castle is open to visitors, as its towers offer stunning views of the surrounding landscape. It also has a museum, where you can see the artifacts collected through its great history.
To visit Ajloun and the Great Citadel, details from here
(Ajloun Castle in Jordan)
The Roman Amphitheater in Amman
The Roman Amphitheater, located in the heart of Amman, is one of the capital's most famous landmarks. It is believed to have been built in the second century AD, during the reign of Roman Emperor Antoninus Pius.
The grandstand seats consisted of three levels, with the front seats for the judges, the military in the second class and the public in the upper rows.
The amphitheater can accommodate about 6000 people, and today, concerts are held today, and visitors come outside during performances to see the wonderful views from the top.
Do not miss visiting the Roman Amphitheater while you are in Amman, details from here
(The Roman Amphitheater in Amman, Jordan)
This article was written originally in Arabic and is translated using a 3rd party automated service. ArabiaWeather is not responsible for any grammatical errors whatsoever.