Arab weather - eastern waves rushing from the China Sea to the Bay of Bengal, thus was the emergence of the tropical state of Gulab in the Bay of Bengal to cross India to the northeast of the Arabian Sea, to derive its strength again with the birth of Storm Shaheen, then heading to the Sea of Oman in a path considered very rare and unfamiliar Covering about 3,500 km.
This was the life cycle of Hurricane Shaheen
Cyclone Shaheen cut hundreds of kilometers and headed for the Sea of Oman
In the details, with the evening hours of Saturday, 9/25/2021, the tropical storm stationed in the Bay of Bengal region was called Jallab, moving in the western direction towards the eastern coast of India, accompanied by heavy rain and strong winds, and then pushed west towards the Gulf of Gujarat in the form of a tropical depression, and that With the morning hours of last Thursday.
With the beginning of the tropical situation penetrating the surface of the northeastern Arabian Sea waters at the end of last week, it quickly began to regain its strength to a tropical storm bearing the name Shaheen to continue its movement towards the Sea of Oman in conjunction with its gradual development into a first-class hurricane during the evening hours of Friday 10/2021 1, incubated by the Sea of Oman.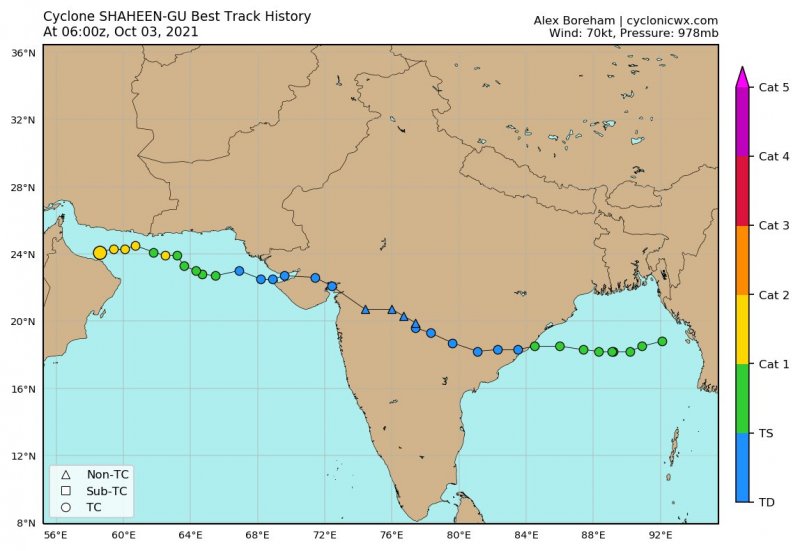 Cyclone Shaheen began moving along the coasts of the Sultanate overlooking the Sea of Oman with the early morning hours of Monday, accompanied by heavy rains in parts of Muscat, South and North Al Batinah, which led to the formation of torrential rains and floods in some areas, in addition to rising sea waves and inundating some coastal areas.
Sunday/Monday night
The center of Cyclone Shaheen hits the coast of the Sultanate
Cyclone Shaheen's crossing of the Omani coast was completed on Sunday night at 21:45 local time, coinciding with its retreat into a tropical storm, bringing with it large amounts of rain and accompanied by strong winds in many northern governorates of the Sultanate, making Hurricane Shaheen the Suwaiq station at the forefront of stations. Global meteorological monitoring as the largest amount of rainfall, recording about 306 mm.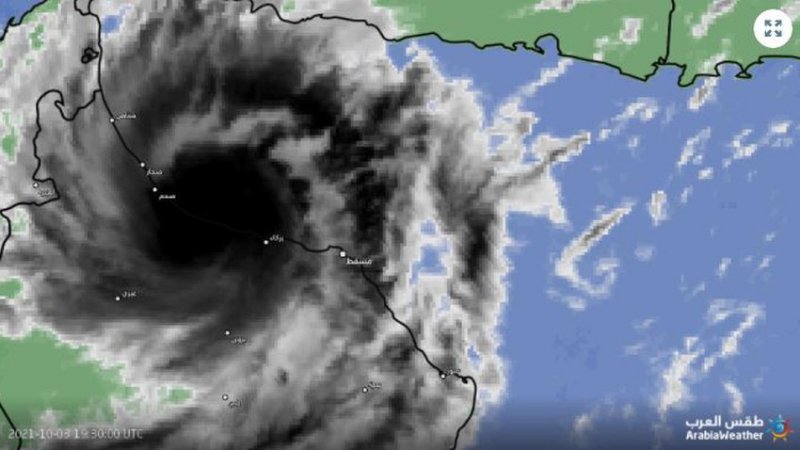 The classification of the tropical situation Shaheen declined during the early morning hours of Monday to a deep tropical depression after it penetrated into the Omani lands, moving to the southwest towards the Empty Quarter to reduce the chances of rain in most of the wilayats of the Sultanate.
Although the Sultanate of Oman was subjected to stronger cyclones during its history, Cyclone Shaheen is characterized by its extremely rare path, which has not been recorded in modern climatic records, and it is believed that a similar path occurred in the year 1890 AD.
This article was written originally in Arabic and is translated using a 3rd party automated service. ArabiaWeather is not responsible for any grammatical errors whatsoever.