Arab weather - all regions of the Levant live under the influence of a hot air mass and temperatures much higher than their normal rates, as the region is still under the influence of an air high in the upper air layers, and hot southeast currents in the middle and high air layers, closely monitored by the Department of Management Weather operations and forecasts in Arab weather The output of the weather maps, which now indicates that there is an expected radical change in the weather as of Wednesday, represented by a significant decrease in temperatures in all regions.
Change is on the horizon
Temperatures are expected to drop on Tuesday, with the weather remaining generally hot in most areas, and temperatures above normal rates, but, as of Wednesday, a strong air high is expected to be concentrated over important areas of western and central Europe, and accordingly, air masses will move The relatively cold regions of central and northern Europe towards the eastern parts of it to the Balkan countries and Turkey, which means that the Levant region will become within the path of air masses with normal temperatures.
In the details, the rest of the Levant region is affected by an air mass of normal temperature and values around the general rates on Wednesday, the second day of the blessed Eid al-Adha, as a result of which the temperatures drop significantly, and a normal summer atmosphere prevails in most areas, while the weather is hot in the low areas. As a result of the distribution of atmospheric systems, the western winds are active in most areas and cause dust, especially in desert areas, and the opportunity is created for local showers of rain in the coastal areas of Syria.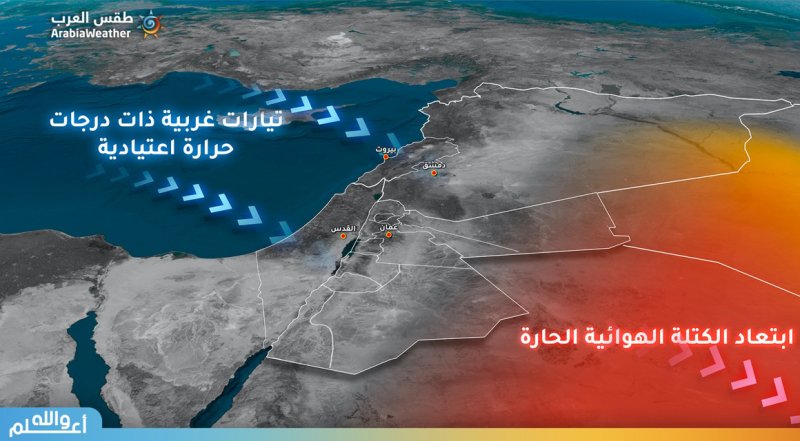 During the night hours, there is a noticeable and clear decrease in the temperature, so that a moderate atmosphere prevails in general in the mountainous areas and the plains, while it may tend to be cold during the late night hours, especially in the mountain peaks, and the humidity levels rise, low clouds appear, and light fog forms in the western interior regions of Syria. Palestine and northern Jordan.
With the control of an air mass with temperatures around its normal rates, the weather is suitable for going out on trips and practicing outdoor activities with the afternoon hours, especially in mountainous areas, taking into account avoiding direct exposure to the sun directly for a long time and drinking a lot of fluids, either during the night hours. It is advisable to wear a light coat, especially in the late night hours.
This article was written originally in Arabic and is translated using a 3rd party automated service. ArabiaWeather is not responsible for any grammatical errors whatsoever.