Arab weather - Sinan Khalaf - It is expected that the impact of the dusty weather will begin on some regions of the Kingdom, which the Arab weather alerted in advance, starting from Wednesday, and it will start from the northern parts of the Kingdom, to crawl towards Hafr Al-Batin and possibly parts of the east and center of the Kingdom on Thursday.
Strong northwesterly winds in Al-Jawf and the northern borders
Areas covered by the dust forecast for Wednesday
In the details, it is expected that the northern sector of the Kingdom will blow from Wednesday, active northern winds with strong gusts at times, the speed of some of its gusts reaching the limits of 80 km/hour , including both Al-Jawf and the northern borders, and it is expected that it will work to raise a wave of dust and dust, And the low extent of horizontal vision and perhaps lack thereof at intervals.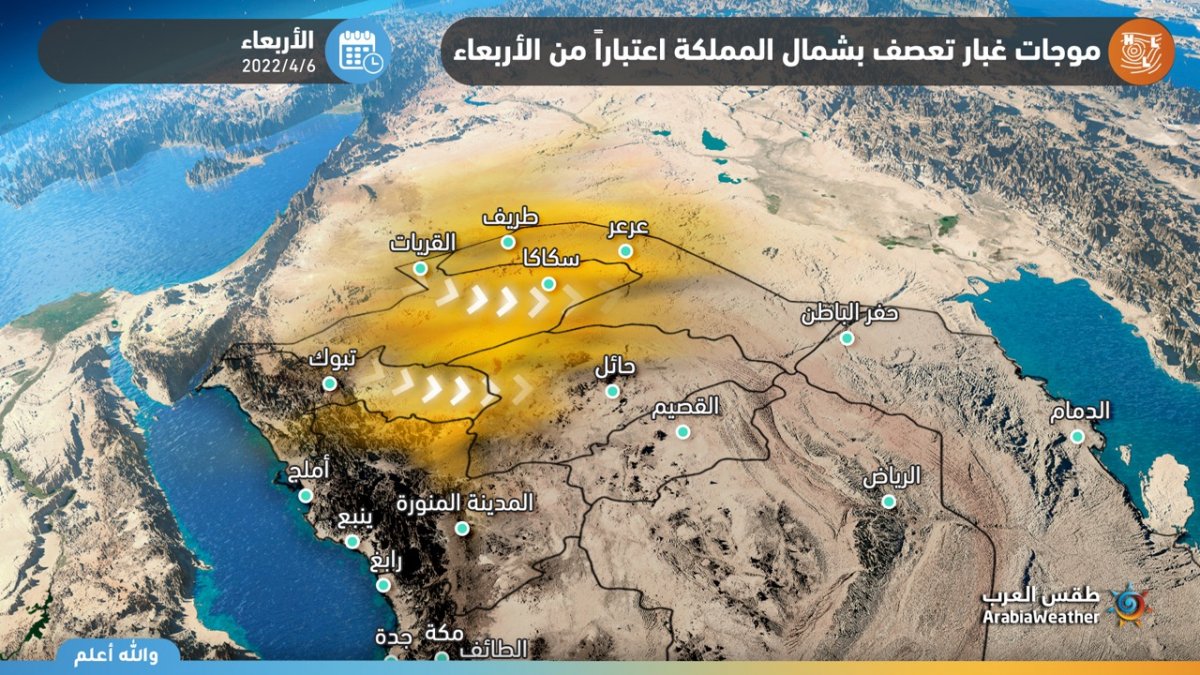 Monitoring the possibility of dust moving from the north towards Hafr Al-Batin on Thursday
The forecast staff in the Arab weather monitors the possibility of the dust wave descending and moving on Thursday towards Hafar Al-Batin and possibly some eastern parts of the Kingdom on Thursday, and Arab Weather will issue more updates about developments in the coming days.
These weather conditions require attention from:
The danger of strong winds that may reach the barrier of 80 km / h
The risk of a decrease in the range of horizontal visibility due to dust and dust stirred up
Risk of additives in patients with respiratory system and eyes due to dust
This article was written originally in Arabic and is translated using a 3rd party automated service. ArabiaWeather is not responsible for any grammatical errors whatsoever.