Arab weather - all regions of Oman live in a hot weather and temperatures approaching 50 degrees Celsius in many areas these days, while the latest developed weather maps from Arab weather internally indicate that many states in the northern region of the Sultanate of Oman are on a date with a decrease Noticeable temperature as of Friday.
The hot weather continues on Wednesday and Thursday
On Wednesday and Thursday, Oman continues to be affected by the hot weather, as temperatures are recorded at the end of the forties in the interior regions while approaching 50 degrees Celsius in parts of the northern states, especially those located in the governorates of Al Dakhiliyah and North Al Sharqiyah , and the coastal areas will not be immune to these hot weather so that they are The temperatures are in the late thirties, in addition to the high humidity, which means that a gloomy atmosphere prevails in these areas.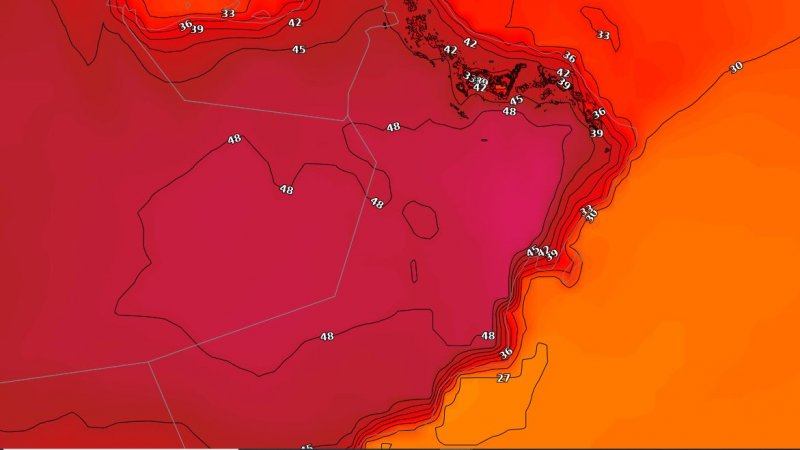 During the night hours, warm to relatively hot weather prevails in general, and humidity levels rise, and during the late night hours there is an opportunity for fog to form in parts of the coast of Oman.
Active winds that raise dust and dust in desert areas
It is expected that the desert areas in the Sultanate of Oman will continue to be affected by dust waves accompanied by a significant decrease in horizontal visibility, reaching less than 1000 meters during Wednesday and Thursday . Some of the dust extends in the form of light to medium-density plankton towards the northern interior.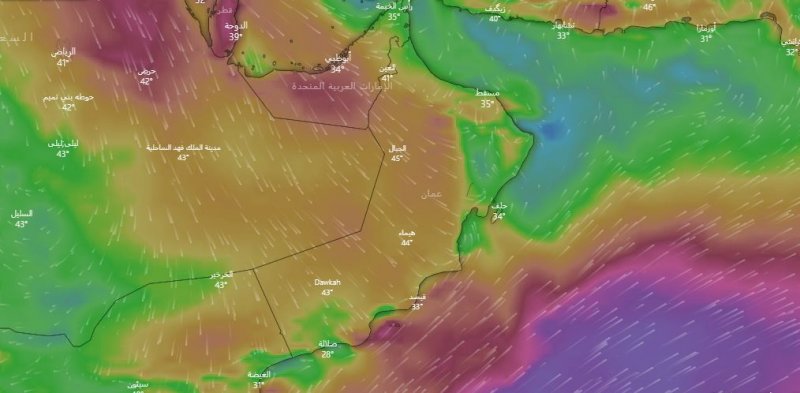 As of Friday, it is expected that eastern and northern marine and humid currents will blow, which will decrease temperatures in the states located in the north of the Sultanate of Oman, and at the same time, the impact of dry and dust-laden winds will decrease from the northern and desert regions, and the chances of local formations will improve in the parts of the Hajar Mountains. .
We review with you the expected temperatures in the state of Adam in the coming days, and you can also find out the temperature in your area from here.

This article was written originally in Arabic and is translated using a 3rd party automated service. ArabiaWeather is not responsible for any grammatical errors whatsoever.