Arab Weather - The outputs of computer simulation systems for forecasts of wind and dust movement in Arab weather indicate that large parts of northern Algeria are affected by a dust wave that can be described as dense, starting today, Thursday, and its impact is increasing during the weekend, God willing, and is accompanied by showers of rain that are Heavy in some geographical areas in northern Algeria.
A heavy dust wave sweeps the northern parts of Algeria
Strong winds and a significant decrease in visibility and sometimes lack thereof
The weather forecast section in Arab weather follows the distributions of atmospheric pressure and its difference between the north and south of Algeria and the depth of the desert depression located in the Algerian desert, as active south to southwest winds rush to strong speed, emanating from the western parts on Thursday, raising dust there and may work Local sandstorms formed, moving into parts of the northern interior over the weekend.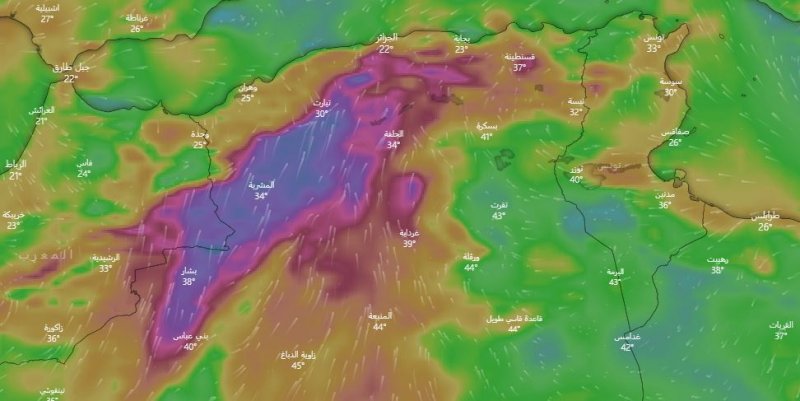 Wind gusts are expected to reach up to 90 km/h, and these winds are considered capable of forming broad dust waves accompanied by a significant decrease in the horizontal visibility to less than 500 meters.
Areas covered by forecast of strong winds and dust
North and West Algeria are the most affected
As for the areas covered by the forecast of strong winds and dust in Algeria for Thursday, they are both Bashar and the western borders, while on Friday and Saturday it extends to the northern parts, especially Saida, Ain Safra, El Bayadh, and Laghouat, to parts of the interior, and the expected dust wave leads to a significant decrease in the range Horizontal visibility to less than 500 meters, especially in desert and open areas, where visibility may be completely absent in those areas.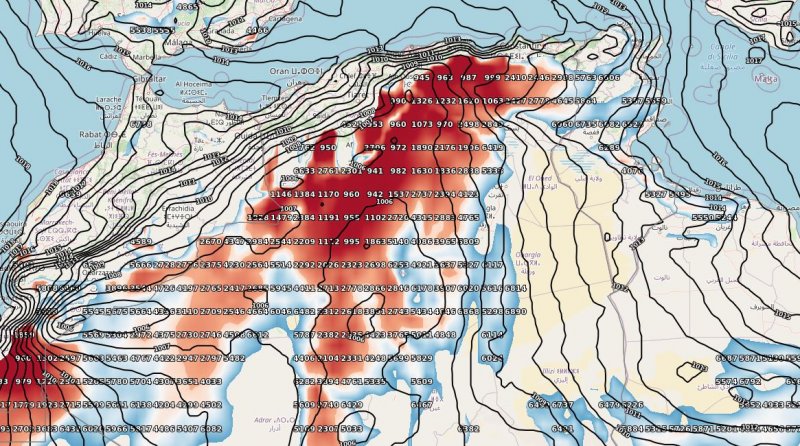 Regarding these expectations and what they will have a direct impact on public life, it is worth alerting road users in general and desert roads in particular about the low range of horizontal visibility and sometimes its absence, and it is also worth alerting patients with respiratory system, corona and eyes to the need to follow the necessary preventive measures to deal with such weather conditions, We ask God's safety for all.
On the other hand, it will be under rain on a daily basis, with the intensity and intensity of thunder clouds intensifying during the evening and night hours, so that thunderstorms and strong thunderstorms are blowing, accompanied by the activity of wind movement and precipitation between medium and heavy, in addition to hail, and thus, alerts weather Arabs from the formation of torrents in the valleys and low-lying areas in parts of northern Algeria.
This article was written originally in Arabic and is translated using a 3rd party automated service. ArabiaWeather is not responsible for any grammatical errors whatsoever.