Weather of Arabia - Weather maps indicate an expected intensification of hot weather during the coming days, as the Sultanate is increasingly affected by the air rise centered over the eastern Arabian Peninsula, accompanied by very hot air masses that deepen surface thermal depressions with low values, so that temperatures rise additionally during the coming days To exceed the 50 degrees Celsius barrier in some northern states.
Very hot and exhausting weather in most areas
The surface air depression is expected to deepen further in the north of the Sultanate on Tuesday, as the center of the depression is considered a flaming center for the very hot air mass, to cause an additional rise in temperatures, so that the temperature will range at the end of the forties in most of the governorates and cities of Oman, with some areas heading towards In northern Oman to the beginning of the fifties during the peak hours extending from noon to afternoon, when the weather is very hot and very stressful in all areas.

During the night hours, warm weather prevails in general, and humidity levels rise, and during the late night hours there is an opportunity for fog to form in parts of the coasts of the Arabian Sea and the Sea of Oman.
Continuation of dust waves in desert areas
The forecast staff in the Arab weather expects that the desert areas in the Sultanate of Oman will be affected by dust waves accompanied by a significant decrease in the horizontal visibility, reaching less than 500 meters on Tuesday. Some of the dust is expected to extend as light to medium-density plankton towards the northern interior.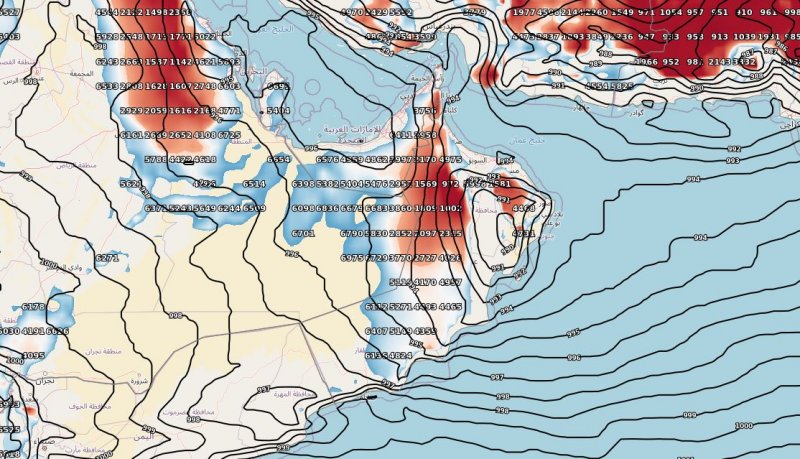 In light of this, the Arab Weather warns of a significant decrease in the range of horizontal visibility, especially on desert external roads, to less than 500 meters.
As for the coming days, it is worth noting an expected continuation of high temperatures in many areas, in conjunction with activity on the speed of winds that raise dust and dust in many western regions, and the reason for this significant increase in temperatures is due to the blowing of hot and dry westerly winds, It works on the prevalence of very hot and exhausting weather in general, which is accompanied by the effect of the thermal depression located over the region.
This article was written originally in Arabic and is translated using a 3rd party automated service. ArabiaWeather is not responsible for any grammatical errors whatsoever.