Arab Weather - Sinan Khalaf - The Arab Weather forecast staff expected that large parts of the Arabian Peninsula will be affected by a dust wave that can be described as regional, as it is expected that its impact will include 9 Arab countries: Jordan, Syria, Iraq, Saudi Arabia, Kuwait, Bahrain, Qatar, the Emirates, the Sultanate of Oman and Yemen, It is considered the strongest, most prolonged and influential since the start of the season.
This broad dust wave will result from the impact of the eastern basin of the Mediterranean and the Levant region on Thursday and Friday with an air depression accompanied by a cold air mass, which will push active northwesterly winds to strong speed, emanating from Jordan, Syria and Iraq, raising dust there and perhaps forming Local sandstorms, to move quickly towards the north of Saudi Arabia, then the eastern parts thereof, in addition to the State of Kuwait, and their impact extends to all of the central and eastern parts of the Kingdom, in addition to Qatar, Bahrain, the Emirates and the Sultanate of Oman, and reaching Yemen.
Saudi Arabia is waiting for the strongest dust wave since the beginning of the season
It is expected that Saudi Arabia will be directly affected by strong winds and dusty weather, according to the forecast staff, who indicated that wind speeds will reach 70 km / hour, and these winds are capable of forming broad dust waves accompanied by a significant decrease in the horizontal visibility.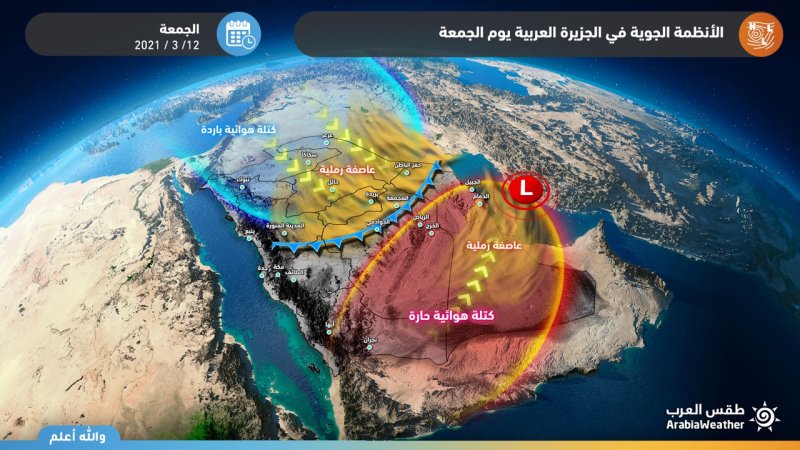 Areas covered by forecasts of strong winds and dust in Saudi Arabia
As for the areas covered by forecasts of strong winds and dust in Saudi Arabia, they are all from Al-Jawf, the northern borders, the Hail region and Al-Qassim, and up to the capital Riyadh, in addition to large parts of the eastern region "especially Al-Ahsa" and the coasts of the Arabian Gulf that will witness turbulence in the sea and a rise in waves in addition to the dusty atmosphere in general. .
These weather conditions require attention from:
The danger of strong winds, which may reach the barrier of 90 km / h
- The risk of a decrease in the horizontal visibility due to the raised dust and dirt
- The risk of complications in patients with respiratory system and eyes due to dust
This article was written originally in Arabic and is translated using a 3rd party automated service. ArabiaWeather is not responsible for any grammatical errors whatsoever.