Weather of Arabia - Sinan Khalaf - large parts of the Levant region and the Arabian Peninsula are affected by a regional rainy situation characterized by the strength of the accompanying weather phenomena such as the intensity of thunderstorms, abundance of rain, activity of air currents and downward winds that excite sandstorms, and it is expected that their impact on the Kingdom of Saudi Arabia Starting from Wednesday evening according to the following chronology:
If you are browsing from the phone, you can download the new ArabiaWeather application that provides accurate weather forecasts for thousands of regions in the Kingdom. Press here.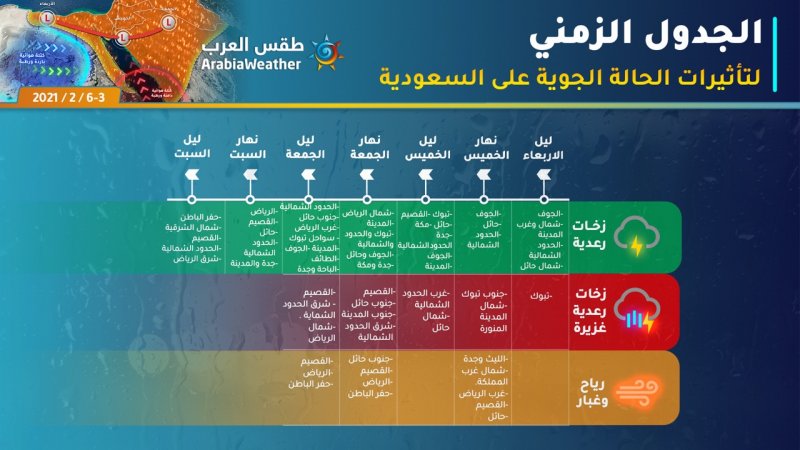 The rainy situation starts from Tabuk
Details and distribution of rain for Thursday
The Tabuk region is considered a spark for the rainy situation, as clouds begin to form in the evening and night hours of Wednesday, beginning in the coastal parts, and the opportunity is created for thunderstorms of rain, and with the hours of dawn and morning on Thursday, it is expected that the unstable weather conditions will intensify significantly over the Tabuk region, to become The rainfalls are extremely heavy, accompanied by lightning, thunder and sometimes dense showers, and extend to all of Al-Jawf, the northern borders, parts of Al-Madinah Al-Munawwarah and western Hail.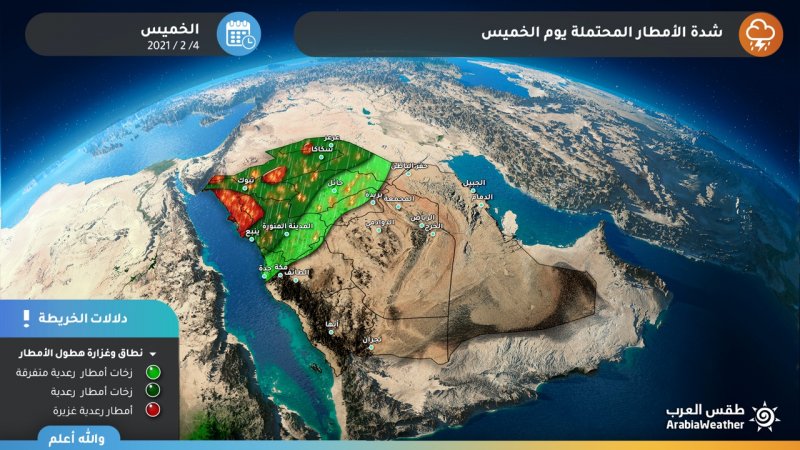 Air turbulence continues Friday
Details and distribution of rain for Friday
On Friday , the cold upper basin moves towards the east, so the cold air front crosses the city of Jeddah, Hail, the northern borders, and parts of Medina, where the chances of rain improve and are sometimes accompanied by thunder, and the chances of torrents forming in these areas also increase, as some rain extends from Makkah and Taif, and weaker Al Baha.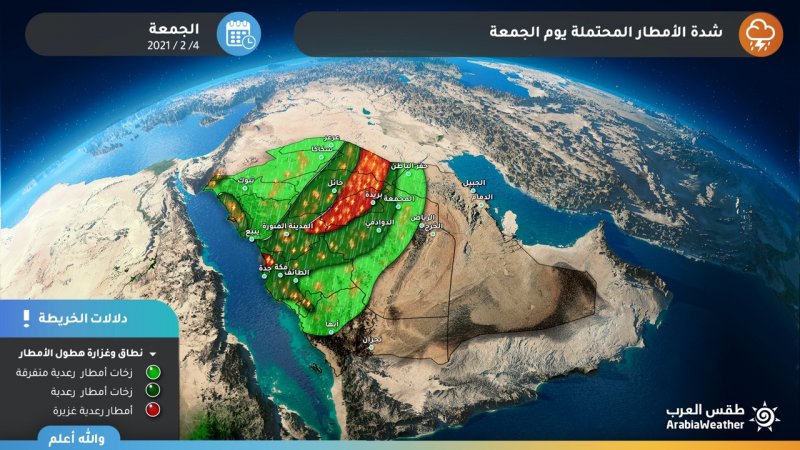 It is expected that the rains will be thunderous and sometimes heavy on parts of eastern Medina, Hail and Qassim, and are accompanied by showers of hail and thunderstorms (during the crossing of the cold front), as the formation of water accumulations or torrents is not excluded, while the rains are less strong in the rest of the regions.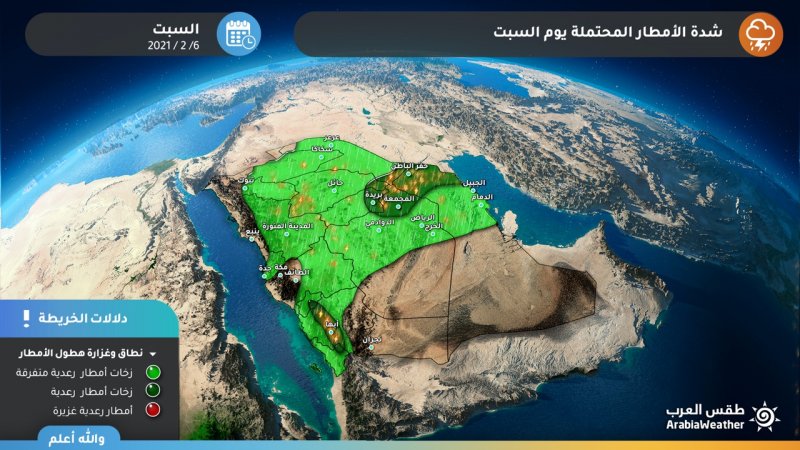 Decrease in the severity of the condition
Details and distribution of rain for Saturday
On Saturday, the effects of unstable weather are expected to begin to diminish, with the opportunity remaining ready for showers of dispersed rain in different parts of the northern, eastern and central regions (which may affect parts of the capital, Riyadh), with a drop in temperatures in most regions.
This article was written originally in Arabic and is translated using a 3rd party automated service. ArabiaWeather is not responsible for any grammatical errors whatsoever.