Arab weather - The Makkah region remains on Tuesday under the influence of unstable weather conditions, God willing, resulting from the rush of a cold upper basin from the north, in conjunction with an effective response to the Red Sea depression and the rush of moisture-saturated currents in the different layers of the atmosphere, and this means the availability of many From weather conditions and mechanical (mountains) and dynamic (cold upper basin in the north) air lift factors.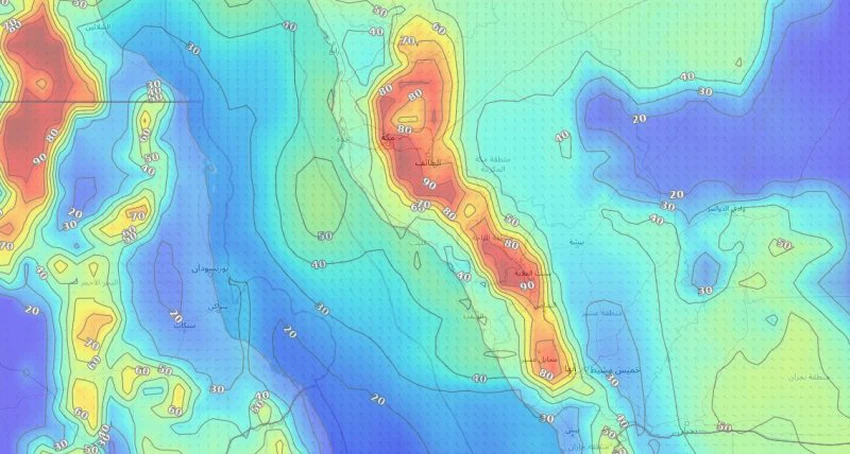 In the details, the weather on Tuesday is expected to be fair in most parts of the Makkah Al-Mukarramah region and partly cloudy over its heights, and it is possible that some marine discharges will flow to limited areas from its coasts, and gradually increase in the afternoon and evening hours of clouds at different heights and Showers of rain fall on the heights east of Makkah, and it is not excluded that some thunder clouds will include the Holy Capital. These rains are sometimes heavy and accompanied by the occurrence of thunderstorms, activity in the downward winds and showers of hail, which may cause the flow of valleys and reefs and High water level in the roads in some areas.
It is expected, God willing, that the activity of cumulonimbus clouds will renew on the heights of east Makkah Al-Mukarramah on Wednesday, and these rains will be scattered in most cases, and this does not mean that they are heavy at times and accompanied by the occurrence of thunder and activity in the surface winds.
God knows.
This article was written originally in Arabic and is translated using a 3rd party automated service. ArabiaWeather is not responsible for any grammatical errors whatsoever.