Arab Weather - Sinan Khalaf - hour after hour, we are monitoring in the "Arab Regional Weather Center" the latest developments in the tropical situation that is expected to be active in the Arabian Sea as of Wednesday. Where the latest outputs of computer simulation systems indicate that the great warming in the northern Arabian Sea between India and the Sultanate of Oman passing through the coasts of Pakistan, in addition to the absence of shear winds, will make this region an ideal point for supplying the tropical state with a large amount of energy that would support its development and movement towards the sea Oman, where all numerical models agree that the Sultanate of Oman will be under the direct influence of the tropical situation at the end of the week.
Although the numerical models agree on the movement of the tropical state towards the Sultanate of Oman, they differ in their potential impact on neighboring countries such as Saudi Arabia and the UAE.
Potential pathways and impacts of the prospective tropical state
The first path of the American numerical model GFS:
And this path crosses the most powerful, dangerous and comprehensive, given its impact on a number of countries in the region, and according to the model, the storm is expected to hit all the Omani coasts overlooking the Sea of Oman, from Ras Al Hadd to the Wilayat of Shinas, bringing with it strong winds and heavy rain, to move the storm quickly towards the interior parts of the Sultanate, with the storm moving later towards the Emirates, maintaining a large part of its strength, which means that large parts of the Emirates are exposed to heavy rain and strong winds. Then it moves towards Saudi lands and the Empty Quarter.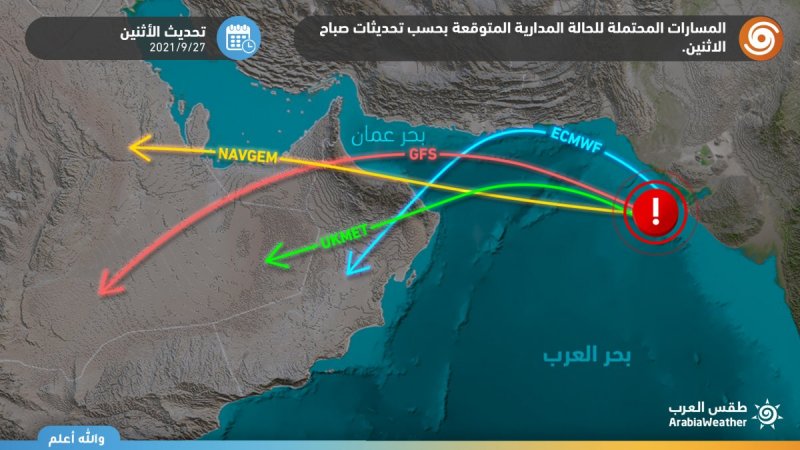 The second path of the NAVGEM numerical model:
The NAVGEM numerical model agrees with the path of the American numerical model GFS in the areas of influence on the Sultanate of Oman and the UAE, but the difference is that the storm is likely to move towards the Arabian Gulf instead of moving towards Saudi lands and the Empty Quarter
The third path of the NAVGEM numerical model:
The fourth path of the NAVGEM numerical model:
This article was written originally in Arabic and is translated using a 3rd party automated service. ArabiaWeather is not responsible for any grammatical errors whatsoever.