Arab weather - All numerical models, praise be to God, are in agreement that the Kingdom of Saudi Arabia will be affected by the first rain situation after a period of interruption. And wind and dust for many areas.
Chronology of the rainy condition
The areas covered by the rain forecast for the coming days
It is expected that the southwestern sector of the Kingdom will be the starting point for rainy clouds on Wednesday, so that cumulus clouds depend on the heights, and the area of instability extends with the evening and night hours of Wednesday to include separate parts of the north and west of the Riyadh region, provided that cloud activity is renewed on Thursday As of the noon hours on the southwest of the Kingdom, and parts of Hafr Al-Batin and the north and west of the Riyadh region, and with the evening and night hours, it extends to include Riyadh, south of Qassim and limited parts of the eastern region.
To read the best, download the Arabia Weather app from here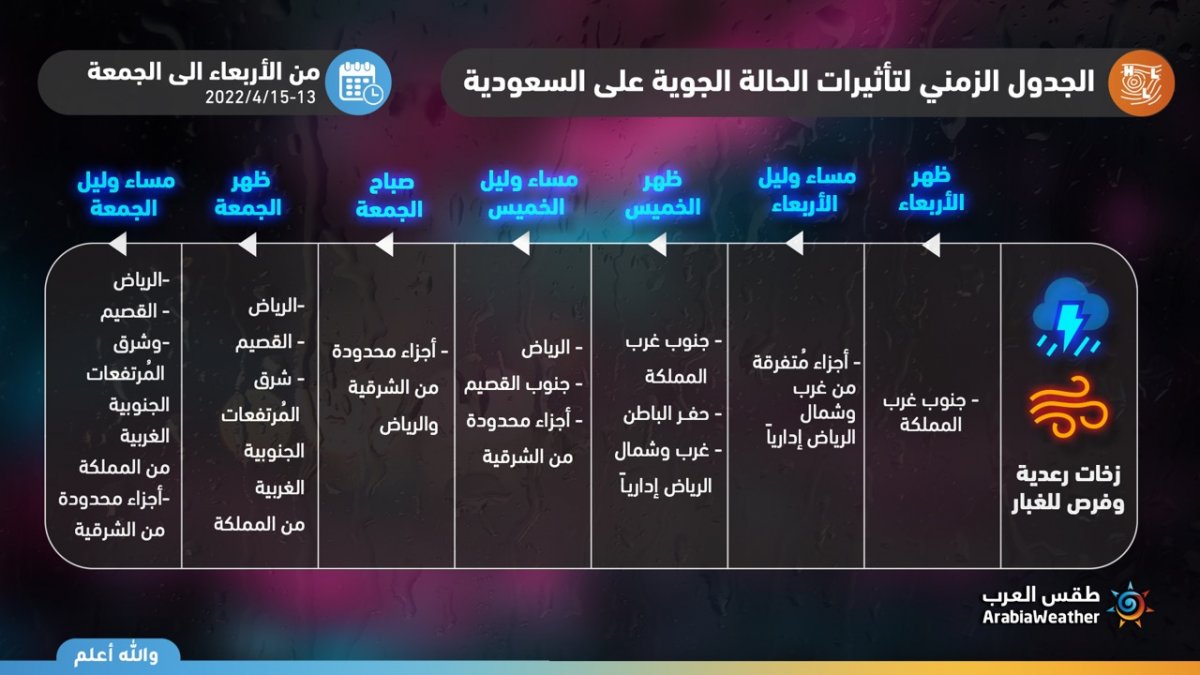 On Friday, some cumulus clouds will form in the sky over the eastern region and Riyadh, and the situation will gradually increase in comprehensive strength from noon on Friday to include Riyadh, Qassim and the east of the southwestern highlands of the Kingdom, and God knows best.
See also:
important | Saudi Arabia is on the cusp of the first April weather that brings rain and dust to 8 regions
Riyadh | After the drought.. Successive omens with several chances of rain in the coming days
important | The most prominent features of the rainy situation expected to start affecting Saudi Arabia from Wednesday
This article was written originally in Arabic and is translated using a 3rd party automated service. ArabiaWeather is not responsible for any grammatical errors whatsoever.