Arab weather - It is expected that the Levant will be affected more Thursday and Friday by the hot air mass, to reflect this on the ground by raising temperatures significantly, amid indications that the Great will approach on Monday to 40 degrees Celsius in many cities and governorates in the Levant.
Thursday and Friday
Details of the hot mass affecting the area
In the details, it is expected that the hot air mass will directly affect the Levant, with the maximum temperature reaching its peak on Thursday and Friday, when it is expected to be around 40 degrees Celsius in many areas, as temperatures are much higher than their usual rates for such The time of the year, and the weather is hot in most areas, especially at noon and afternoon, while it is very hot in low areas, and temperatures rise at night to deposit warm to relatively hot weather prevailing in all areas.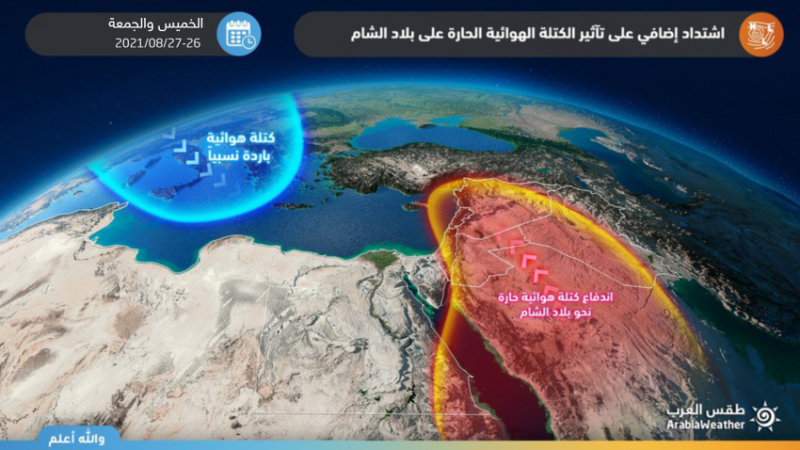 The air mass is considered to be the source of the Arabian Peninsula, and it is one of the hottest air masses on earth, in addition to that, it is of a dry nature because its habitat is desert lands from the Arabian Peninsula, and because of this hot and dry nature, this air mass is considered exotic or alien to the weather Levant, as the weather will be hotter than usual for the region's climate.
With temperatures reaching levels of 40 degrees Celsius in many villages and major governorates, the necessary precautions must be taken in such stressful weather conditions, the most important of which is drinking water and fluids as frequently as possible, and avoiding leaving the house during the afternoon and afternoon hours during the height of the hot weather.
The dynamics of the atmosphere is represented in the distribution of air masses, of course, on the distribution of cold and warm air masses across the North Pole, which is the main source of the region through dynamic ways, which is represented in the control of high air pressures over an area, offset by low air pressures in another region, as with the rush of a relatively cold air mass In the middle of the old continent, which intensifies the subtropical atmospheric height and deepens the pressure values in the thermal depressions on the Arabian Peninsula and sometimes approaches the Levant.
This article was written originally in Arabic and is translated using a 3rd party automated service. ArabiaWeather is not responsible for any grammatical errors whatsoever.