Weather of Arabia - Saudi tweeters circulated on Twitter a video of an unusual phenomenon that occurs in the Kingdom of Saudi Arabia, which is classified as a tornado. It is a phenomenon that occurs with severe thunderclouds, and it is represented by a column of air that rotates violently and is in contact with the surface of the earth, and the movement of the upward winds inside the thundercloud is very violent, as it rotates in the form of a spiral.
And the experts at the Arab Weather Center said that the weather conditions were favorable on the afternoon of Sunday 12-3-2023, to form deep and piercing thunderclouds (Mesocyclone) in that region, due to the availability of moisture and high instability in the atmosphere and the intensity of the ascending convection currents and the current mowing. The experts confirmed that the outputs of the weather balloon (which shows the vertical characteristic of the weather elements) indicate that the atmosphere was in a state of almost complete saturation of the troposphere with high amounts of water vapor with tropical characteristics, with indicators of severe instability, and with the support of warm southern winds.
And through the Abha airport balloon, the experts at the Arab Weather Center said that the data show the availability of a severe wind shear environment at the time (the difference in the speed and direction of the horizontal wind flow between the surface layers and the upper layers). It is important for the development of thunderstorms; Because it causes the ascending air current to separate from the downward current, which allows the thunderstorm to continue for a longer period and to gain recursive depth.
The interaction of the downdrafts with warm surface air causes the updraft to circulate. Whenever this temperature difference increases, it leads to increased instability in the atmosphere and an increase in the rotating air near the surface of the Earth at a speed sufficient to allow the formation of a tornado.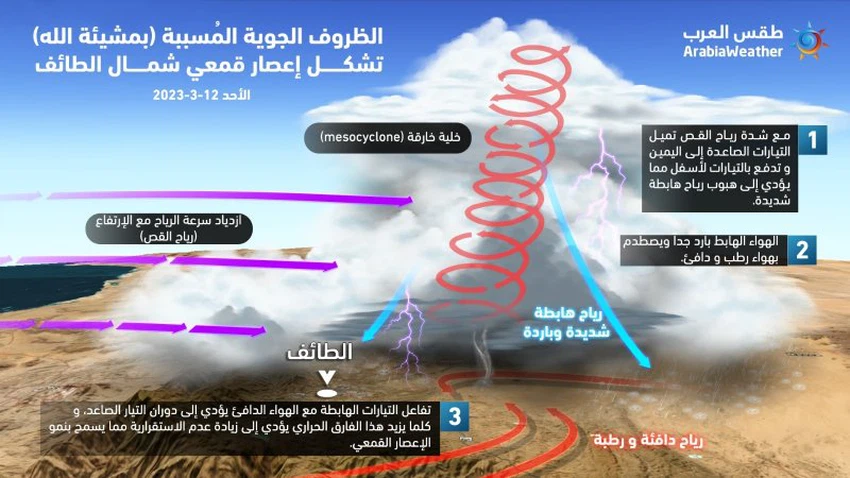 God knows best and highest.
This article was written originally in Arabic and is translated using a 3rd party automated service. ArabiaWeather is not responsible for any grammatical errors whatsoever.