Weather of Arabia - The outputs of the analyzes and the computer simulation data of weather forecasts indicate indicators of an increase in the chances of thunderstorms in several parts of the southern Arabian Peninsula, starting from the beginning of next July, God willing.
Where the weather forecasters at the Arab Weather Center for Meteorology and Forecasting said that the weather system will witness a change in the region during the first week of July, represented by a gradual displacement of the "eastern" tropical jet stream in the north (Northern India), and accordingly it provides the opportunity to enter and extend the monsoon grooves towards the Arabian Sea. And accompanied, God willing, quantities of tropical water vapor.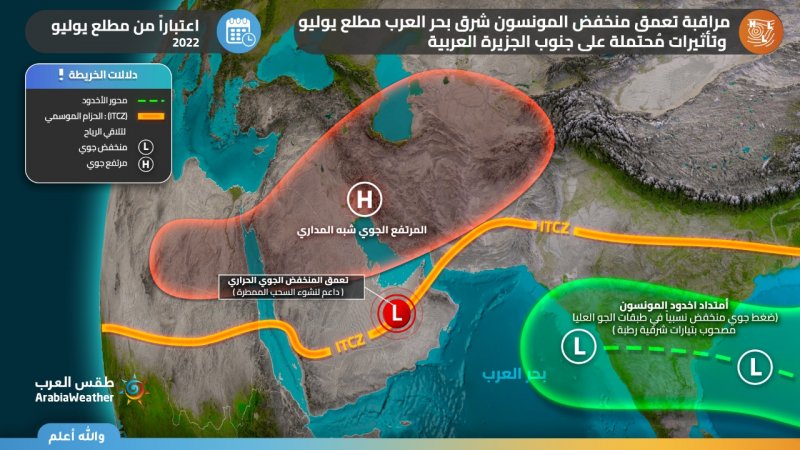 The computer processing outputs, which are numerous, indicate expectations that this depression, located in the high and middle layers of the atmosphere, will approach the south of the Arabian Peninsula in early July, in conjunction with the support of moisture from the tropics due to the progress of the seasonal belt of convergence of winds to southern Arabia (ITCZ), and a superficial response Effectively low temperatures in some areas, this air system works to create instability in the air in various layers of the atmosphere in parts of southern Arabia.
The outputs of the analyzes and the computer simulation data of weather forecasts until the time of writing this report fluctuate in their forecasts for the development of thunder clouds and the areas covered by them accurately during the first week of next month, due to the lack of accurate sensing of the behavior of the jet winds in the upper layers of the atmosphere and the location and depth of the subtropical high altitude, which It may constitute a barrier to the progress of the monsoon canyons/eastern waves from southern Arabia. Therefore, all of the above is within the context of the forecasts of the latest weather readings issued by the Arab Weather Center, knowing that these forecasts are considered medium and constantly changing, so updates will be released that will highlight more details incrementally whenever needed, God willing.
God knows
This article was written originally in Arabic and is translated using a 3rd party automated service. ArabiaWeather is not responsible for any grammatical errors whatsoever.