Weather of Arabia - A week after the flood that struck the city of Derna, many questions remain about the reasons that resulted in the unprecedented disaster in eastern Libya, as satellite images and other circulating video clips revealed the severity of the event and the complete disappearance of neighborhoods in the city, as well as The tragic number of victims has not stopped rising until now.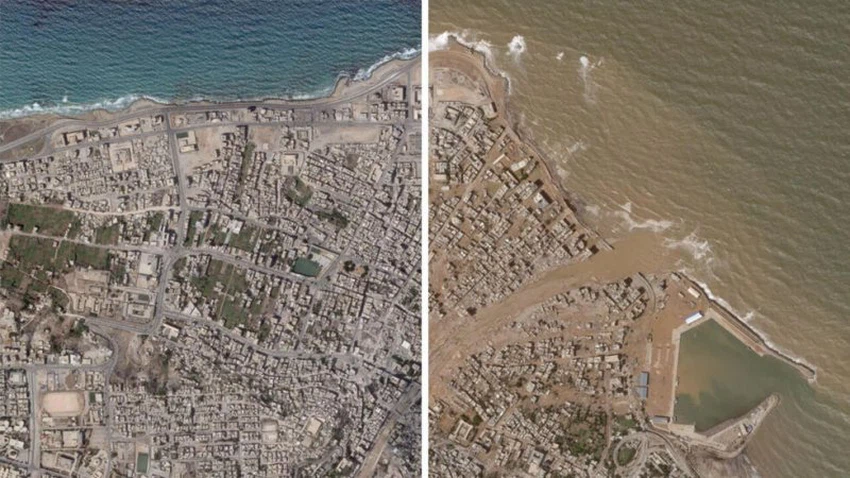 The specialists at the Arab Regional Weather Center said that the specificity of the city of Derna and its geographical location were a direct reason for its tragedy, as it is bordered to the north by the Mediterranean Sea and leans to the south on the hills of the Green Mountain, making it a sloping area, and it is separated by a valley stream from the top of the mountain. The sea is known as Wadi Derna. This valley was built along its course with two dams, the first about 15 kilometers away from the city and known as the Great Dam, and the other near the southern entrance to the city and only about 2-3 kilometers away from the city.
The specialists at the center add that with the intensification of the impact of the Mediterranean Storm Daniel on the eastern Libyan coast, very large amounts of rain fell, approaching 400 mm at weather monitoring stations close to the city. By 400 mm, we mean that each square meter of land received 400 liters. Of water, and that's just in less than 24 hours! This is equivalent, for example, to what falls in the Jordanian capital, Amman, during a full year, or 4 years in Riyadh.
Consequently, huge quantities of mud-laden water flowed from the mountain highlands into the valleys and valley streams in the surrounding areas, and this naturally led to the collapse of the first dam, which was considered large and massive, and its collapse caused billions of cubic meters of water to flow into the second dam. Which led to it exploding as well.
The floods flowed like floods into the city of Derna, taking everything in its path and wiping out a quarter of its area. Thus, Derna turned into a disaster-stricken city in the largest natural disaster that has befallen the Arab world in the modern era.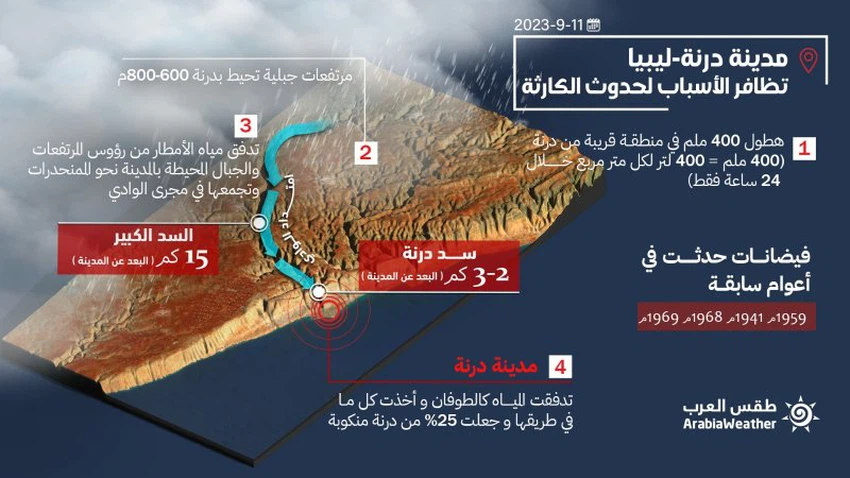 This article was written originally in Arabic and is translated using a 3rd party automated service. ArabiaWeather is not responsible for any grammatical errors whatsoever.