Weather of Arabia - Dhofar governorate in general and Salalah in particular are a destination for tourists from all over the Gulf region during the Khareef season, which is the peak of the tourist season in the summer, where nature is embodied in all its forms to cover the land with green meadows during the period from the last week of June until mid-September Every year, the southwest monsoon winds "monsoon" during the summer and causes a seasonal phenomenon locally called (Khareef) that lasts for three months, when most parts of the mountains are covered with fog and seasonal mist.
The causes of the occurrence of the phenomenon of Khareef Dhofar
Arab weather specialists said that the "Mascrina" air rise, located south of the equator in the Indian Ocean, is responsible for the intensity/movement of winds and sea currents that cross the equator, which turns from southeast to southwest when crossing the equator. They added that the activity of the Somali jet stream (which is a westerly wind in the low layers that crosses the northern Horn of Africa) is one of the most important catalysts for the Dhofar Autumn. The terrain nature (of the mountains of Somalia) also plays a prominent role in the deviation of the monsoon winds towards the Arabian Sea.
Arab weather specialists added that the monsoon winds blow parallel to the coasts of Dhofar, causing cold water to be drawn from the depth to replace the warm water on the surface in a phenomenon known as the phenomenon of the rising current, which causes a thermal difference between the "warm and wet" monsoons and the cold water surface, If the sea temperature is less than the temperature of a dew drop relative to the air, fog or low clouds will form in the Arabian Sea and move towards the land and cover most of the eastern and southeastern parts of the Dhofar Mountains, and are accompanied by drizzle and light rain sometimes.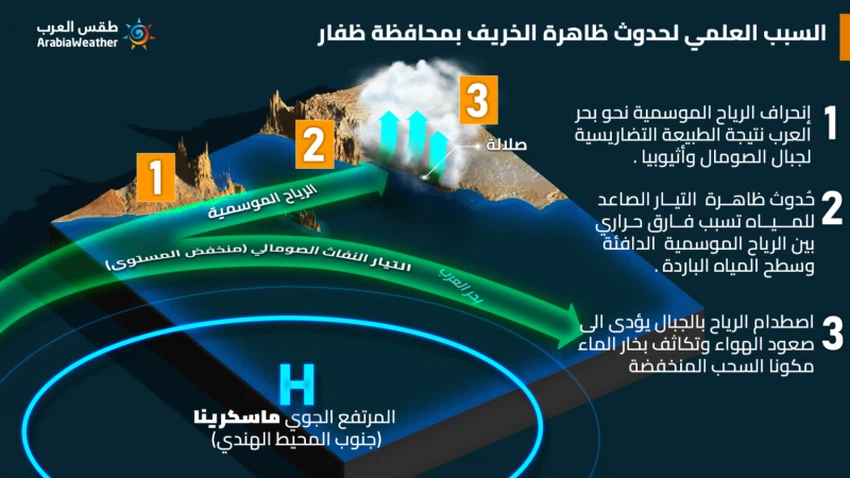 The mountains of Dhofar also contribute to the formation of another type of cloud, which is produced by the humid southwest winds in the Dhofar region, which results in the rise of air carrying water vapor to the top, which leads to condensation of water vapor forming low clouds.
This article was written originally in Arabic and is translated using a 3rd party automated service. ArabiaWeather is not responsible for any grammatical errors whatsoever.