Weather of Arabia - As of Sunday, large parts of the Middle East and the Arabian Peninsula region are affected by a very hot wave, which can be described as regional, due to its impact on a wide geographical area that includes many countries of the region, including Iraq.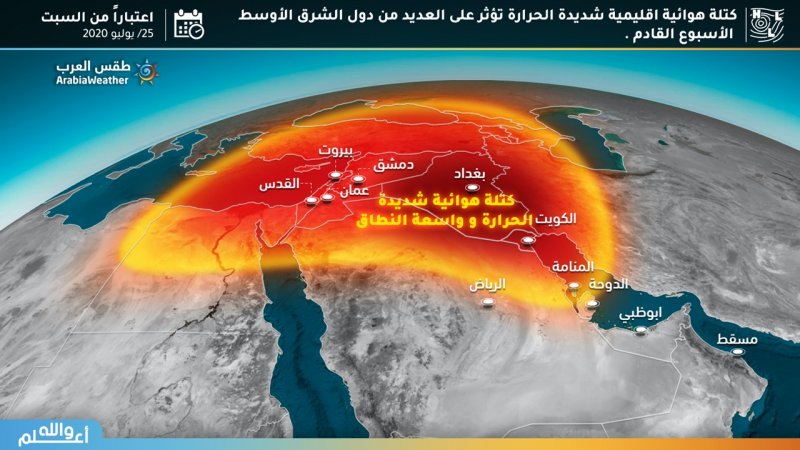 Iraq is most affected by the warm block and expected record temperatures
The Republic of Iraq is considered the most affected by the heat wave, as temperatures are expected to increase significantly during the next week, possibly record. Most of the Iraqi regions, including Baghdad , are expected to record high temperatures ranging from 50 to 54 degrees Celsius , and the weather will be very hot and exhausting Very popular in all regions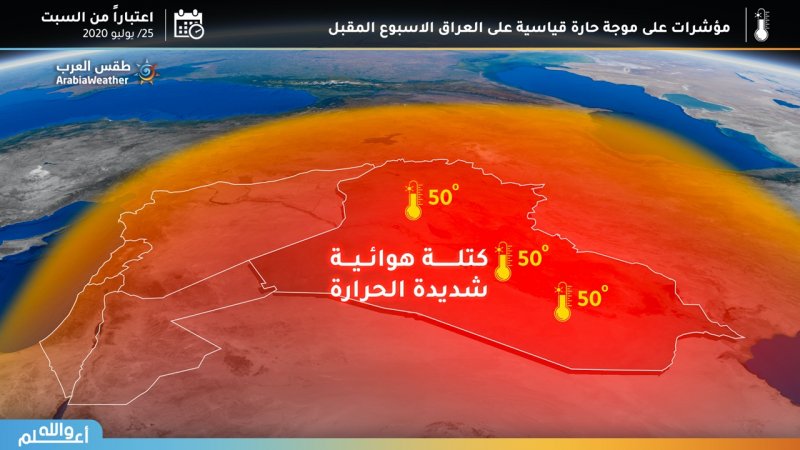 A direct impact of the heat wave on Jordan and Syria
In Jordan and Syria are expected to temperatures rise dramatically to become higher than usual rates for this time of year by about 8-10 degrees Celsius, but did not rule out that recorded the Jordanian capital Amman , temperatures touching 40 degrees Celsius, while approaching 45 in the Syrian capital Damascus And the weather is generally hot to very hot. As for Jerusalem, the capital of the Palestinian state, it is expected to be affected weaker by the hot mass, so that the maximum temperatures are between 31-34 degrees.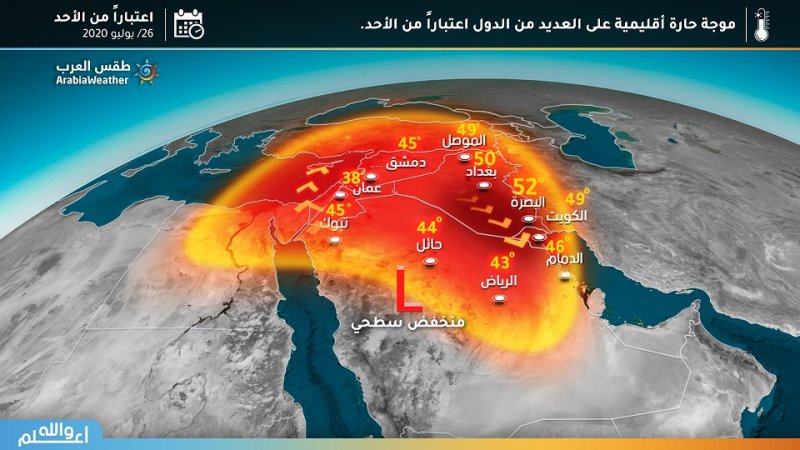 A large rise in temperatures in northern Saudi Arabia
Also, it is expected that most regions in the north of the Kingdom of Saudi Arabia will be affected significantly by the effects of the heat wave, and temperatures will rise in Arar, Al Qurayyat, Sakaka, and Al-Jouf region to exceed 45 degrees Celsius on Sunday and Monday, and the weather will be extremely hot and cumbersome.
An opportunity for rain despite the high heat!
In conjunction with the effect of the heat wave, wet currents are expected to flow in the middle and high layers of the atmosphere, causing clouds to appear over different parts of the Arabian Peninsula and the Levant, which may be associated locally with rain showers in some areas of the Arabian Peninsula and parts of southern and eastern Jordan and Syria.
More details about the weather and temperatures during the coming period through a 6-30 day bulletin on the application of Arab Weather
The Arab Weather website notes the necessity of:
Long and direct exposure to sunlight, especially during the afternoon and afternoon periods
Avoid exerting efforts in the sun during this heat wave period to avoid sunstroke.
Not risking leaving children in closed vehicles, as it poses a risk to their lives in light of the high temperature
This article was written originally in Arabic and is translated using a 3rd party automated service. ArabiaWeather is not responsible for any grammatical errors whatsoever.