Arab Weather - The weather maps in the Arab Regional Weather Center indicate a deepening of the impact of the less hot air mass on the Republic on Sunday, as there is a further decrease in temperatures so that the weather will be moderate in the west and in the mountains, and relatively hot to hot in the rest of the regions, especially the central and southern parts, There is a gradual increase in the proportion of dust in the atmosphere, where the weather is dusty in several regions of the Republic.
Active winds and dust waves are expected, including the capital, Baghdad
The deepening of the effect of the less hot air mass on Iraq coincides with the presence of a hot air mass and a low air temperature over the Arabian Peninsula, which leads to the blowing of fast northwesterly winds accompanied by strong gusts over many areas. The gusts are more intense in southeast Iraq, where they may exceed the 75 km barrier. / hour, which will lead to the formation of dust waves in many areas, especially the central and southern regions, including the capital, Baghdad, accompanied by a clear decrease in the horizontal visibility.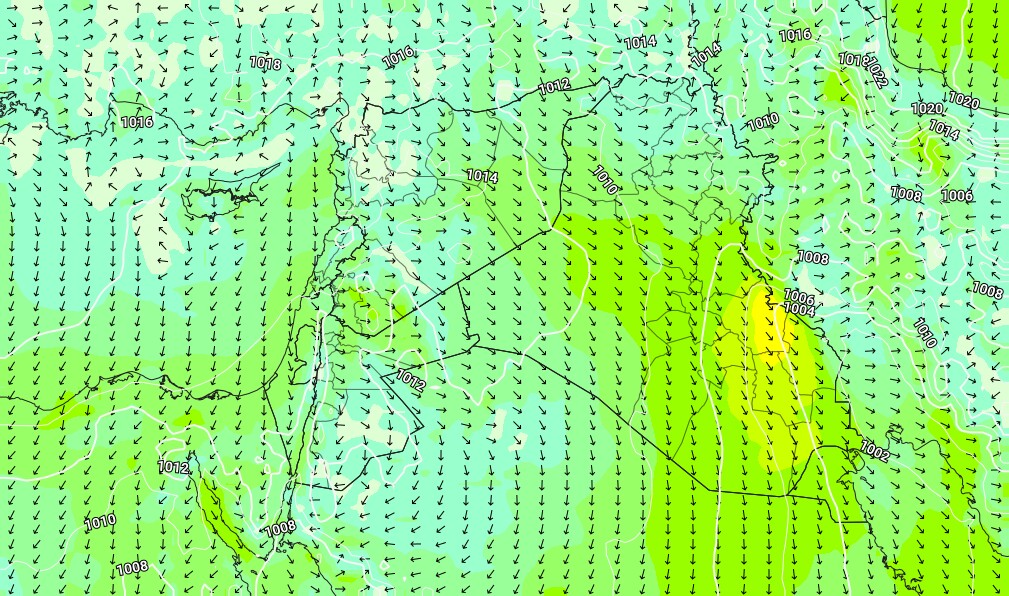 The weather is more temperate in terms of heat at night, but it remains dusty
Night temperatures drop further on Saturday/Sunday night, and the weather is more moderate in terms of temperatures, especially with the late night hours, and the weather tends to be cold at dawn and early in the morning in western Anbar and the northern mountains.
But despite the mild weather, the weather will remain dusty as a result of the activity of the northwest winds, especially in the central and southern parts of the country, but with less intensity than during the day, God willing.
---
Important recommendations from Arab weather:
Be aware of the dangers of reduced horizontal visibility due to dust
Close windows and take the necessary precautions for patients with respiratory system and eyes
Walk with caution on roads with low visibility
God knows.
This article was written originally in Arabic and is translated using a 3rd party automated service. ArabiaWeather is not responsible for any grammatical errors whatsoever.