Weather of Arabia - according to the latest outputs of numerical weather models, it is expected that the Kingdom will begin to be affected by a comprehensive state of air instability during the hours of the night of Wednesday / Thursday, especially the late ones, which causes the emergence of thunderstorms and precipitation in the far south of the Kingdom, specifically the city of Aqaba, with the spread of thunder clouds gradually In the south of the Kingdom during the hours of dawn and Thursday morning, it is expected that the rains will vary in intensity according to the region, but it will be heavy in some areas, including Aqaba, and accompanied by the activity of winds and hail, which leads to the formation of torrents and a rise in the water level.
The severity and scope of the impact of air instability intensified Thursday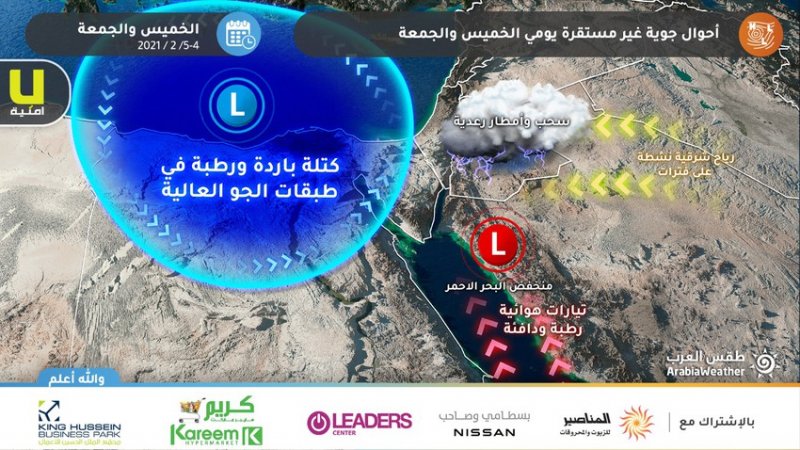 A comprehensive state of atmospheric instability begins with its actual effects on Thursday, as the intensity and extent of thunderstorms intensify to cover many regions of the Kingdom randomly in character, leading to occasional heavy rains associated with the occurrence of thunderstorms and hail in different regions of the Kingdom, Thunder clouds are also associated with great activity on wind speed, which leads to the formation of dust waves in the front of thunder clouds in desert areas.
According to the latest outputs, the effect of thunderclouds gradually transmits during the hours of Thursday night over the eastern desert of the Kingdom, with thunder clouds dispersing in the rest of the kingdom, and rain falling in random and different areas.
Air instability continues Friday, with its severity subsiding
The Kingdom continues to be affected on Friday by a state of atmospheric instability, but less severely and comprehensively than before, as thunder clouds continue to develop in random areas of the Kingdom during daylight hours, and thunder clouds are expected to intensify on Friday night in parts of the eastern desert, God willing.
⚠️ Recommendations
1- Warning against the formation of torrents and high water levels in the roads as a result of thunderstorms in many regions of the Kingdom, especially in valleys and low-lying areas.
2- Serious warnings to the areas of Aqaba, the Jordan Valley and the Dead Sea, in addition to the residents of the hair houses in the eastern regions, and a warning to drivers and travelers on the desert roads, whether in the south or east of the Kingdom, of the danger of torrents forming or a decrease in the horizontal visibility due to dust.
3- Be aware of the risk of strong thunderstorms in some areas.
God knows.
This article was written originally in Arabic and is translated using a 3rd party automated service. ArabiaWeather is not responsible for any grammatical errors whatsoever.