Arab weather - weather maps resulting from the so-called computer simulations show expectations of a gradual and slight decline in temperature levels on Sunday and Monday, so that they are close to their normal rates for this time of the year, and the weather is moderate in mountainous heights, tending to heat slightly during the afternoon, in When it is hot in the Badia, Aghwar, Bahramit and Aqaba regions.
The same maps show that the Kingdom is affected, starting from Tuesday, by a moderately hot air mass with higher humidity than usual, so that temperatures drop from their rates on Tuesday and another drop will occur on Wednesday and Thursday, and during the day a mild summer atmosphere prevails in the Jordanian capital and cities, where it reaches the greatest in the mountainous heights Including in the late twenties Celsius, while relatively hot weather prevails in the regions of the Badia, the Jordan Valley, the Bahramit and Aqaba.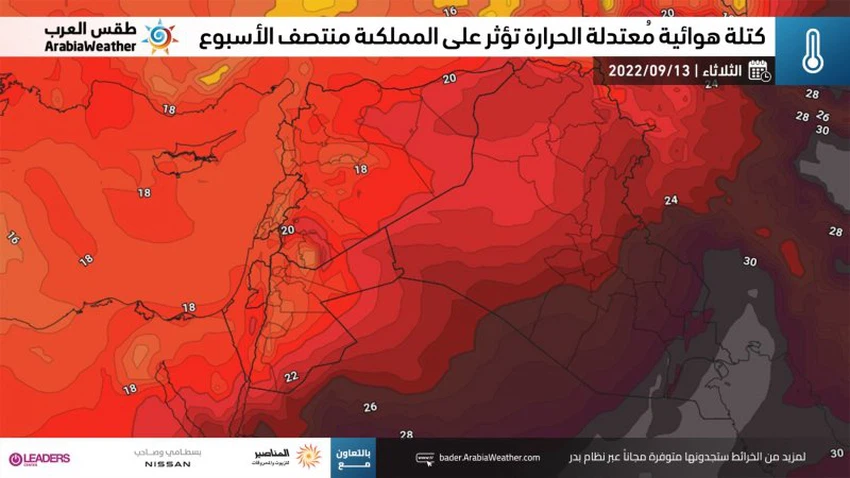 It comes to the fore, the noticeable drop in night temperatures, so that a cold atmosphere prevails in most areas in the mountains and the eastern plains, especially with the late night hours, and the atmosphere becomes unsuitable for outdoor sessions due to the combination of cold weather conditions and high relative humidity, as well as the activity of the northern winds Western sometimes, so that the weather needs to wear a light coat to match the cold weather.
This is due to the expectation of the formation of a strong air rise throughout the European continent in conjunction with the decline of a relatively cold air mass east of this height directly towards the Balkans, the Greek islands and Turkey, and then - after losing its cold characteristics - it may head to the eastern basin of the Mediterranean, including the Kingdom, It arrives in the form of a "humid and moderately warm air mass", God willing.
This article was written originally in Arabic and is translated using a 3rd party automated service. ArabiaWeather is not responsible for any grammatical errors whatsoever.