Weather of Arabia - The Kingdom is gradually affected, starting from Tuesday, by a state of atmospheric instability resulting from the convergence of an extension of a shallow air depression from the Kingdom of Saudi Arabia called the Red Sea depression and a cold air mass in the upper air layers, in addition to that this convergence coincides with the flow of moisture in the different layers of the atmosphere In the afternoon hours, there is an opportunity for thunder showers of rain, God willing, in separate areas of the south of the Kingdom, which may be heavy in some neighborhoods, and we may cause so-called sudden torrential rains in low-lying areas, slopes, valleys and reefs. The weather is moderate and dusty in some areas and fluctuates between partly cloudy and often cloudy, and the winds are between east to southeast, moderate speed, active at intervals.
With the evening and night hours of Tuesday / Wednesday, the weather will be cold in most areas and somewhat dusty in several areas, and scattered showers of rain fall in different areas of the Kingdom, which may be accompanied by thunderstorms sometimes, God willing.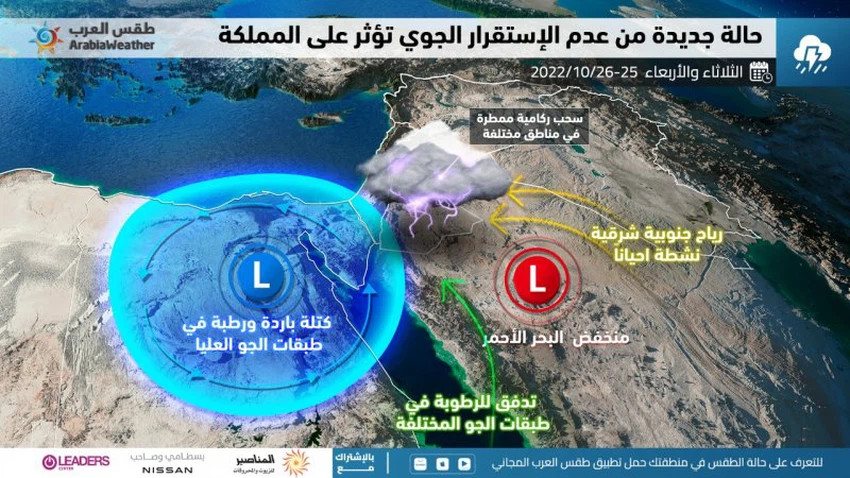 On Wednesday, the Kingdom is affected by the state of atmospheric instability, with the deepening of the cold air in the layers of the atmosphere and its convergence with the extension of the Red Sea depression, and it is expected to be strong in some areas. Thunder showers of rain, God willing, in random areas of the Kingdom. Some of these showers are heavy in some neighborhoods and narrow geographical areas, which causes the flow of valleys and reefs and the formation of sudden torrents, and these thunder showers are accompanied by strong gusts of wind, and the winds are southeasterly moderate speed, active at intervals causing the formation of dust waves in some desert areas. And lead to a decrease in the range of horizontal vision.
---
Based on the above, there are a number of important recommendations that must be taken seriously regarding unstable weather conditions, including:
It is necessary to pay attention to the dangers of sudden torrential formation in valleys, reefs, low-lying areas and areas of usual water gathering.
Stabilizing outdoor collectibles due to the danger of strong downward winds that come temporarily.
Attention to the low range of horizontal visibility as a result of the possibility of dust accompanying thunder clouds and the activity of eastern winds sometimes.
Not to use electronic devices outside when there are cumulus thunderclouds and to take shelter inside buildings when lightning strikes.
God knows.
This article was written originally in Arabic and is translated using a 3rd party automated service. ArabiaWeather is not responsible for any grammatical errors whatsoever.