Arab weather - The various cities and governorates of Jordan live in a relatively hot atmosphere. This atmosphere is expected to continue over the Kingdom in the coming days as a result of the control of a relatively hot air mass rushing from the Arabian Peninsula towards the region, in conjunction with the blowing of southwestern currents in the middle and high air layers.
Relatively hot weather in general Thursday
Temperatures drop slightly on Thursday, while remaining higher than their rates for this time of the year by 2-4 degrees Celsius. Relatively hot summer weather prevails in the mountainous heights, while it is very hot in the Jordan Valley, the Dead Sea, Aqaba and the Badia, and the winds are west to northwest, moderate in speed. It is active in the afternoon, and it may work on high levels of dust in the atmosphere, especially parts of the north of the Kingdom and the interior regions of the eastern Badia.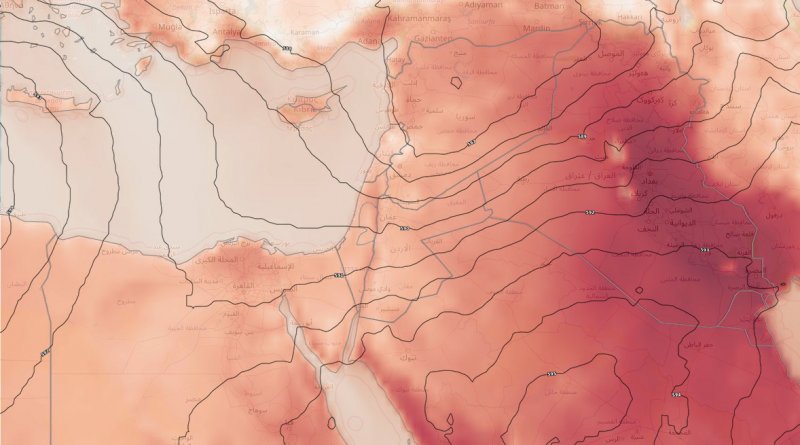 As for the night hours, the weather is moderate in the mountainous heights and the plains, while it is remarkably warm in the low areas, in conjunction with the continued high levels of humidity at night, and this high humidity will increase the sense of heat further.
In light of this atmosphere, the Arab weather advises citizens not to direct and long exposure to the sun, especially during the noon and afternoon hours, and to avoid exerting physical exertion during the peak heat hours, i.e. between 11 am and 5 pm, to avoid sunstroke.
According to medium-range weather maps, it is not expected that there will be a significant change in the air systems during the coming period, as it is expected that the cold air masses will continue to rush from the eastern Atlantic regions to the north and central European continent, which pushes the hot air masses towards the lower shows, including The Levant and North Africa region in response to it.

"Arab Weather" invites you to keep abreast of the news issued by the weather forecast cadre in the coming days through the main website and application.
This article was written originally in Arabic and is translated using a 3rd party automated service. ArabiaWeather is not responsible for any grammatical errors whatsoever.