Weather of Arabia - The Kingdom was affected, with the dawn and morning hours of Tuesday, by an air depression that was classified as second-degree (normal) that caused stormy, cold and rainy weather to prevail in the north and center of the Kingdom, which extended less sharply on Tuesday evening towards the heights of the south of the Kingdom, and was in the form of unaffected showers of snow on the peaks The southern mountainous highlands, which are more than 1600 meters high.
A new air depression was formed centered around the island of Cyprus on Wednesday, and later moved towards the northwest of the Syrian territory, accompanied by the crossing of a cold air front on Wednesday afternoon hours, starting from the north of the Kingdom to the central regions, and heavy showers of rain fell, accompanied by strong winds and showers of hail, and with hours At night, snow showers mixed with rain fell over the high mountain heights, including the peaks of Ajloun and the west of the capital, Amman, and it was in the form of intermittent snow showers at some peaks of Ajloun and Al-Sharra.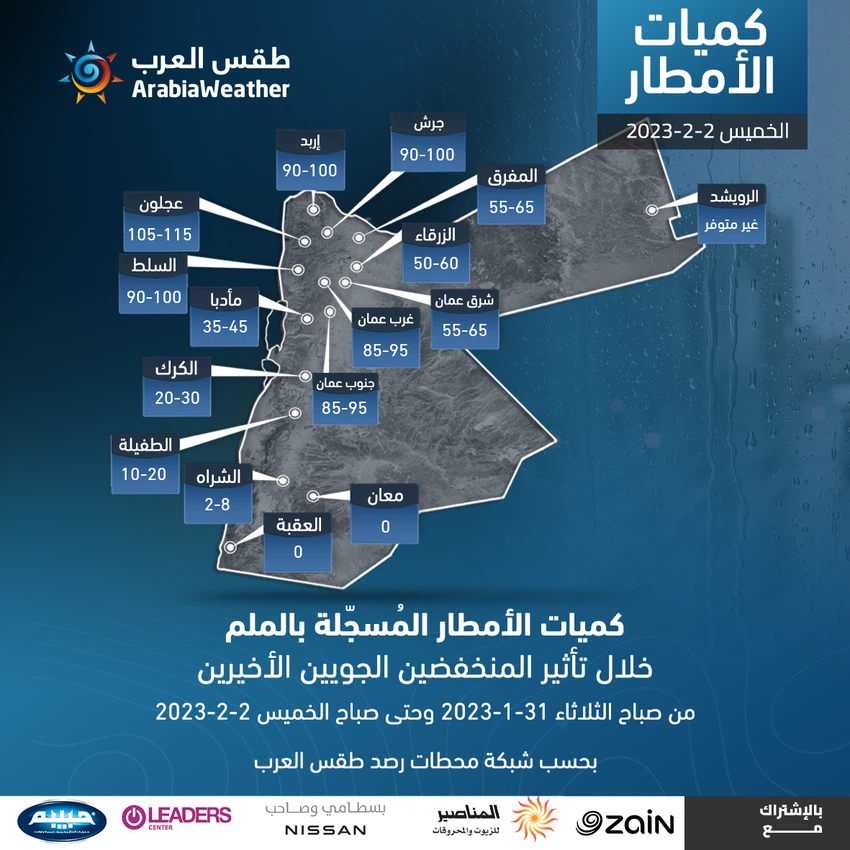 The following are the amounts of rain recorded from Tuesday morning until midnight on Tuesday/Wednesday
Irbid: 90-100 mm
Ajloun: 105-115 mm
Jerash: 90-100 mm
Blue: 50-60 mm
Divider: 55-65 mm
Balqa: 90-100 mm
West Amman: 85-95 mm
East Amman: 55-65 mm
South Oman: 85-95 mm
Madaba: 35-45 mm
Parasite: 10-20 mm
Rolling pin: 2-8 mm
Karak: 20-30 mm
hurdle: 0 mm
Gloss: 0 mm
This article was written originally in Arabic and is translated using a 3rd party automated service. ArabiaWeather is not responsible for any grammatical errors whatsoever.