Arab Weather - According to periodic reports issued by the Air Operations Room in Arab Weather, the latest weather updates still support the rise in temperatures on Thursday; As a result of the extension of the influence of a hot air mass centered over the desert of the Arabian Peninsula towards the region, including the Kingdom, God willing.
More hike Thursday
In the details, the temperatures will rise on Thursday, to become higher than their averages for this time of the year by 2-4 degrees Celsius, as temperatures touch the 35-36 Celsius barrier in the neighborhoods of the capital Amman, to prevail in a relatively hot summer atmosphere in the mountainous heights, while It will be very hot in the Jordan Valley, the Dead Sea and Aqaba, in addition to the desert areas, and the winds will be west to northwest, moderate in speed, active in the afternoon, and may work to raise some light dust in the eastern Badia.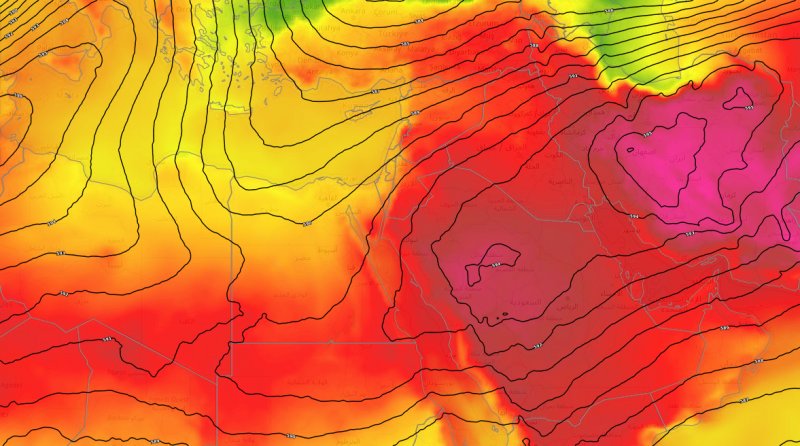 During the night hours, there is a further rise in temperatures compared to the previous nights, so that mild weather prevails in the mountainous heights and the plains, while it is remarkably warm in the rest of the regions, in conjunction with the high levels of humidity at night, and the winds are northwesterly light in speed in general.
In light of this atmosphere, Arab weather advises not to direct exposure to sunlight, especially at peak times, to drink large quantities of fluids and not to rely on feeling thirsty in order to drink, and preferably wearing light and loose clothing, and wearing hats and sunglasses, especially people working in the construction sector or agriculture who The nature of their work requires staying in direct sunlight for long periods, and finally not leaving children inside vehicles, even for a short period of time.
Despite the expected rise in temperatures on Thursday, the weather maps of "Arab Weather" do not indicate any heat waves in the foreseeable future, as the Kingdom is naturally during the summer months under conflict and overlap between the influence of hot masses centered on the Arabian Peninsula and between the extension of The masses are gentle heat rushing across the Mediterranean, and the effect of one mass over the other depends on the distribution of atmospheric systems in the northern hemisphere.

This article was written originally in Arabic and is translated using a 3rd party automated service. ArabiaWeather is not responsible for any grammatical errors whatsoever.