Weather of Arabia - The air maps resulting from the so-called computer simulation indicate the presence of a strong air altitude over the European continent, and it extends in all layers of the atmosphere over those areas, and preliminary forecasts indicate its extension during the coming period with direct support from deep air depressions over the Atlantic Ocean, as it contributes to Continuing to push warm currents to the European depth, which makes the survival of the eastern basin of the Mediterranean, including the Kingdom, under the influence of air masses with temperatures lower than their normal rates for the next two weeks, which may be separated by temporary increases in temperatures on some days.
As for the short term, the specialists at the Arab Weather Center said that the Kingdom of Jordan will remain under the influence of a relatively cold and humid air mass on Wednesday, so that temperatures will continue to drop and be lower than their usual rates for this time of the year by about 4-6 degrees Celsius, and The weather is nice in the autumn and the day tends to be cold over the mountainous heights, and amounts of clouds multiply at different heights, resulting in scattered showers of rain in some areas. , and may cause the formation of torrents in those areas.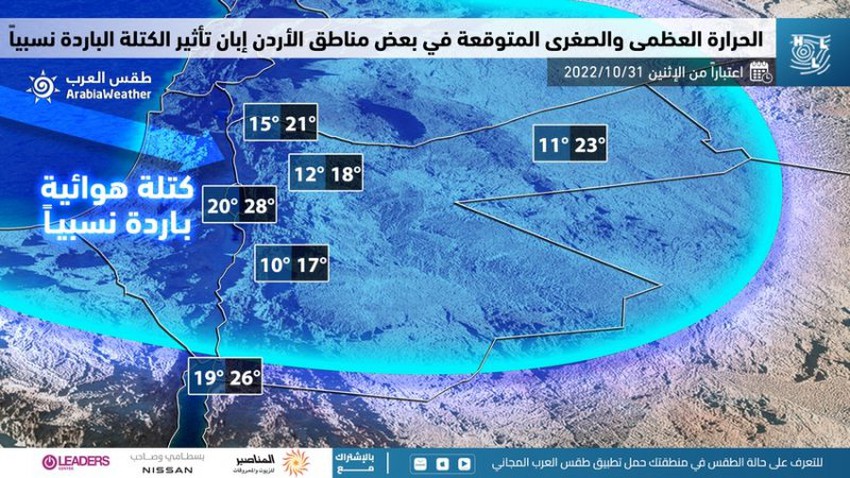 As for at night, the weather is expected to be relatively cold in general in most areas and pleasant in the Jordan Valley, Bahramit and Aqaba regions, turning to cold over the high mountainous heights with late night and early morning hours, where the minimum then reaches about 11-13 degrees Celsius, and less than that in the peaks This calls for wearing warmer clothes and using different heating methods in some areas, as well as the possibility of renewed fog formation in parts of the eastern plains.
God knows.
This article was written originally in Arabic and is translated using a 3rd party automated service. ArabiaWeather is not responsible for any grammatical errors whatsoever.