Weather of Arabia - The latest weather maps through computer simulation models of the movement of air masses indicate expectations for the continued positioning of the hot and impulsive air mass from the desert of the Arabian Peninsula to the east of Jordan, which means that temperatures will remain higher than their usual rates on Monday, but they are much lower if We compared it with the atmosphere that prevailed in the Kingdom last Monday, when temperatures recorded record values in Amman, and are even the highest in the history of the capital's records, which extend for about 100 years.
This is due to the distribution of air masses in the region, as the flaming center accompanying the extremely hot air mass was unusually located last Monday 14-8-2023 near the main regions of the Kingdom and caused temperatures to rise by more than 10 degrees Celsius above their usual rates! Whereas, he gradually retreated after that until today and returned to his original home in the Arabian Peninsula, thus moving away from the Levant, including Jordan.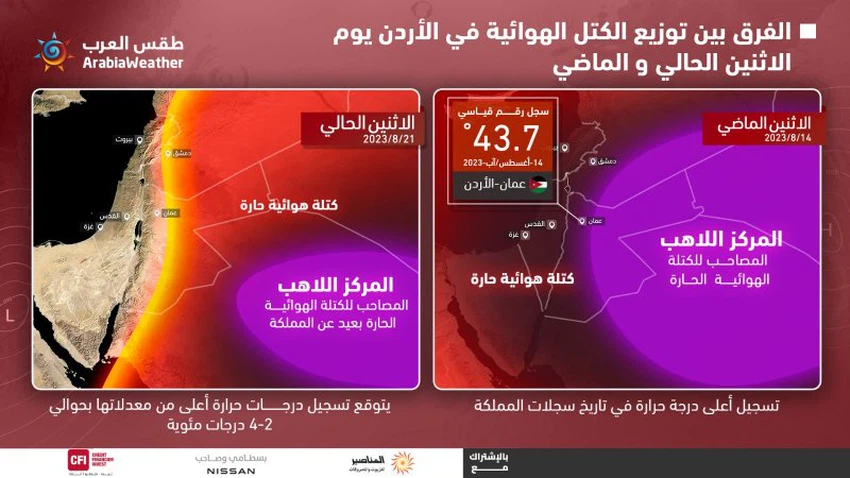 And based on the foregoing, temperatures are expected to be higher than their usual rates for this time of the year on Monday 21-8-2023 by about 2-4 degrees Celsius, and thus a relatively hot atmosphere prevails over the high mountain elevations, while it remains hot until Very hot in the desert, the Jordan Valley, the Dead Sea, and Aqaba, with the appearance of some medium and high clouds, especially in the south and east of the Kingdom, and northwesterly moderate winds in general.
As for the night hours, the weather will be pleasant over the high mountain heights, and moderate in the rest of the Kingdom.
God knows.
This article was written originally in Arabic and is translated using a 3rd party automated service. ArabiaWeather is not responsible for any grammatical errors whatsoever.