Arab weather - weather forecast maps indicate that the Kingdom will be affected, God willing, on Tuesday by an air depression in all layers of the atmosphere that will take from western Lebanon its superficial center, and is attached to a relatively cold and humid air mass, bringing rain precipitation to many areas, God willing, amid a significant drop in degrees the heat.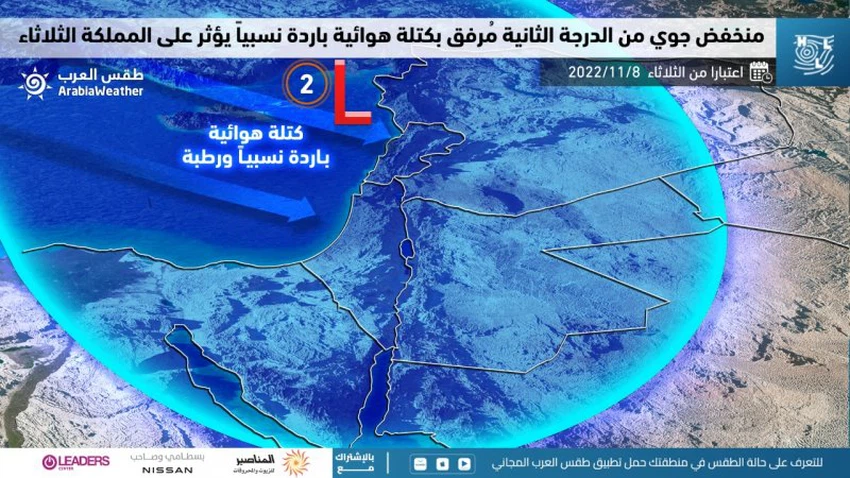 And in the details, it is expected that there will be a significant decrease in temperatures on Tuesday, and they will become several degrees below their usual rates for this time of the year, and the weather will be cold and fluctuating between partly cloudy and cloudy, and showers of rain will fall, God willing, in the north and The center of the Kingdom, extending gradually during the day to parts of the south of the Kingdom, especially the heights of Karak and Tafila, and later towards parts of the northern and eastern Badia, and the rains are sometimes heavy and accompanied by the occurrence of thunder and heavy showers of hail, and the winds are southwesterly moderate to Active speed with strong gusts, dusty in desert areas.
According to the analytical data in the "Arab Weather", it is expected that the Kingdom will remain on Wednesday, under the influence of humid western currents, rushing into the region behind this depression, and therefore the atmosphere will remain cold and partly cloudy with the possibility of scattered showers of rain, God willing, in some regions and be concentrated in parts of the north and center of the Kingdom.
The weather continues on Wednesday/Thursday night, relatively cold, and chances of rain decrease in most areas, and low clouds continue to cross touching the surface of the earth in many mountainous heights, so that fog forms in some areas.
Here it is worth paying attention to some weather phenomena that will affect the daily lifestyle during the period of the impact of the depression, including:
Attention to the danger of low horizontal visibility over the mountains, especially high mountains, as a result of fog resulting from crossing clouds and low clouds touching the surface of the earth.
Attention to the danger of torrential rains forming in valleys and low-lying areas, especially on Tuesday mornings.
Safe use of heating devices in conjunction with low temperatures, especially at night and early morning hours.
The risk of high dust density in desert areas as a result of low horizontal visibility resulting from dust and perhaps some dust storms.
God knows.
This article was written originally in Arabic and is translated using a 3rd party automated service. ArabiaWeather is not responsible for any grammatical errors whatsoever.