Weather of Arabia - The latest weather data received by the regional "Arab Weather" Center for Meteorology and Weather Forecasts indicates that the Kingdom will be affected, God willing, on Friday, gradually, by an air depression in all layers of the atmosphere, centered on the surface at noon on Friday to the west of Syria, and it is classified as second-class (and that According to the innovative scale of depressions from the Arab weather, which consists of 5 degrees (the fifth strongest and the first weakest) and is associated with a cold and moist air mass.
According to the latest weather updates, it is expected that an air front will gradually cross the Kingdom on Friday, starting from the north of the country and extending later to reach the central regions and parts of the south of the Kingdom, so that the weather will be relatively cold in general in most regions, and cold over the high mountain heights, And gradually multiply during the day in the north and center of the country quantities of clouds at different heights, and the opportunity is created, starting from the noon hours, for rain that is somewhat heavy in the north of the Kingdom and gradually extends to the center of the Kingdom, God willing, and is accompanied by hail, and the winds are The speed is active and accompanied by strong gusts, sometimes reaching nearly 70 km / h, and causing dust and possibly sand storms in the desert areas of the south and east of the Kingdom, which leads to a limitation of the horizontal visibility.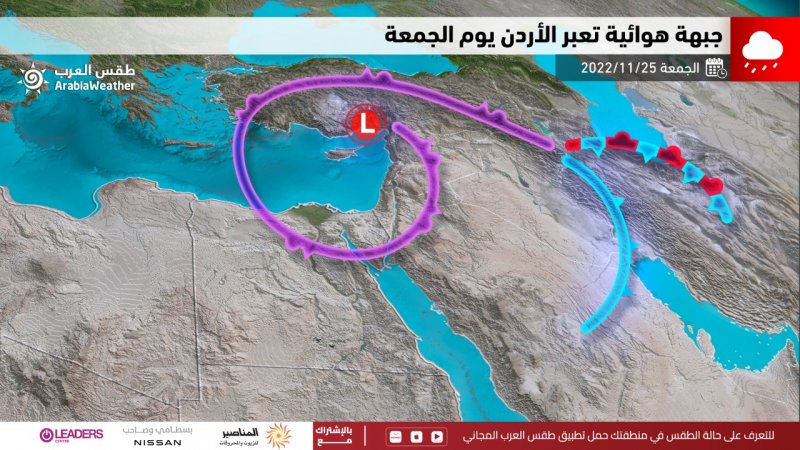 And the depression on Saturday moves towards the east and is concentrated at noon to the north of Syria, and the Kingdom continues to be affected by the cold and wet air mass, and the temperatures are less than their usual rates for this time of the year by more than 5 degrees Celsius, and the weather is cold in several regions. And it is often cloudy with rain, God willing, at intervals in parts of the north and center of the Kingdom, and the winds are west to southwest, strong at speed.
And the rains weaken significantly on Saturday afternoon and recede from most areas as we enter the hours of Saturday evening and night (Saturday / Sunday), as night temperatures drop additionally, and cold weather prevails in most areas, God willing.
Recommendations:
It is recommended to pay attention while walking on the desert roads in the south and east of the Kingdom from the low horizontal visibility caused by dust.
Attention from the formation of torrents and the flow of valleys in some areas.
The risk of low horizontal visibility over mountain heights, especially high ones, as a result of fog resulting from the crossing of clouds and low clouds touching the earth's surface.
God knows.
This article was written originally in Arabic and is translated using a 3rd party automated service. ArabiaWeather is not responsible for any grammatical errors whatsoever.