Arab Weather - The Kingdom has lived in most of the summer since its inception until now, with a mild to normal summer atmosphere with some days when the weather was hot, but the indicators received by the weather forecast staff at the Arab Regional Weather Center began showing the approach of a relatively hot air mass to a hot area from the Kingdom. With the beginning of next week and intensifying in the middle of it.Details
A relatively hot air mass approaches the Sunday lane
It is expected, God willing, that the relatively hot air mass will approach the hot in the Kingdom on Sunday, so there will be a rise in temperatures to be higher than their average, and the summer weather will be normal to relatively hot in most areas, and very hot in the Jordan Valley, the Dead Sea, Aqaba and the desert areas.
Observing the intensification of the hot air mass on Monday and the middle of the week and returning to the real summer atmosphere
According to the same initial indicators, the Kingdom is increasingly affected on Monday and Tuesday by the relatively hot air mass to the hot rushing from the south across the Arabian Peninsula, which is accompanied by an extension of an air rise in the upper layers of the atmosphere, so that the temperature increases in various regions, and the weather turns into a relatively hot summer to It is hot in all regions, and it remains extremely hot in the Jordan Valley, the Dead Sea and the city of Aqaba, in addition to the eastern Badia regions.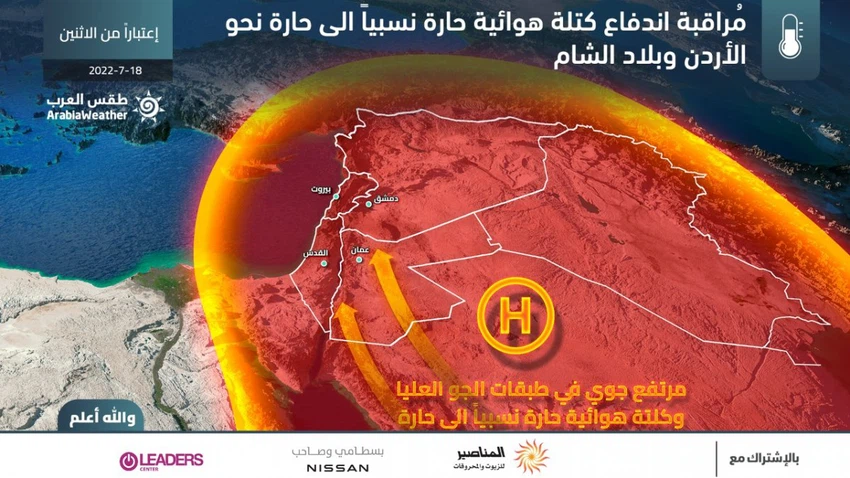 Higher night temperatures and warmer than usual weather
Night temperatures will also rise from the beginning of next week, so that the weather will be warmer than usual in relation to the night hours in all regions of the Kingdom.
For more news, download the Arab Weather app from here
God knows.
This article was written originally in Arabic and is translated using a 3rd party automated service. ArabiaWeather is not responsible for any grammatical errors whatsoever.