Arab weather - from the late night hours of Monday/Tuesday, dawn and Tuesday, dry southeast winds, moderate to brisk, will blow over the Kingdom, and the winds are accompanied by remarkably strong winds in the slopes of the western highlands, and the valleys and the Shafa are deep, in addition to the Dead Sea, where the speed of their gifts increases Sometimes it reaches 70 km/h, and it alerts farmers and owners of greenhouses in the Jordan Valley to the dangers of strong winds.
The reason is due to the doubling of the wind speed over the Jordan Valley and the Dead Sea, because the wind blows from the eastern side of the western front (a direction opposite to the natural wind behavior), as the eastern winds rise towards the slopes of the western mountainous heights, and descend very quickly towards the Jordan Valley and Dead Sea areas due to the fact that these areas are lower than The sea surface, and the coldness and dryness of the eastern winds, which makes them heavy in weight and thus double their intensity and speed when they descend from the slopes of the western mountains, where some peaks are more than 1700 meters high, towards the Jordan Valley and the Dead Sea, whose height does not exceed -400 meters.
Arab weather warns against swimming in the Dead Sea
The winds that blow over Jordan are usually from the northwest or west, and are usually of light to moderate speed. Therefore, it pushes the waves on the small surface of the Dead Sea lightly to medium, which is why tourists and swimmers rush to the beach naturally and gradually without much effort, because the winds are blowing behind them, meaning they are coming from the west and northwest.
In March of 2015; Two drowning accidents occurred due to active easterly to southeasterly winds blowing over the country, which means that the waves and currents of the water have become opposite to the swimmers, making them unable to return to the shore, as happens on normal days when the winds are westerly.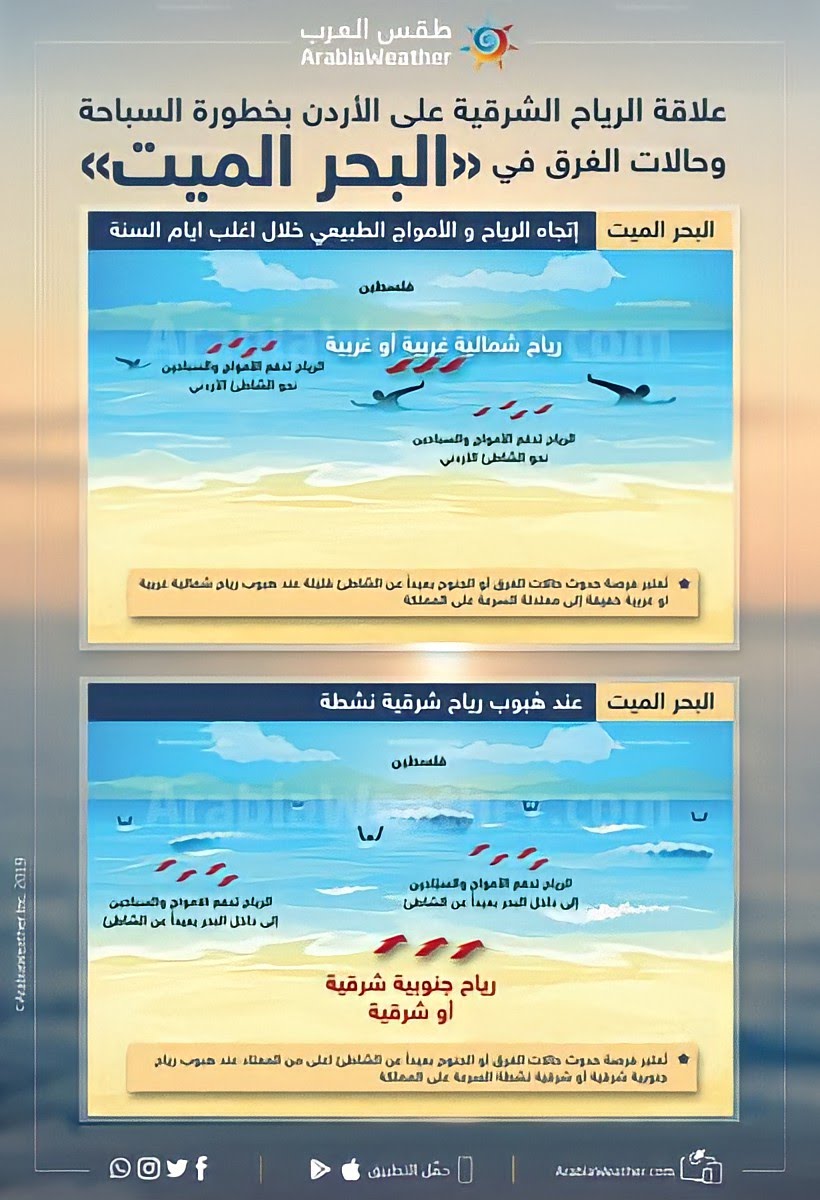 And what makes the matter more difficult for swimmers is the nature of the waters of the Dead Sea, which is characterized by its high salinity and density.
For more news, download the Arabia Weather app from here
God knows.
This article was written originally in Arabic and is translated using a 3rd party automated service. ArabiaWeather is not responsible for any grammatical errors whatsoever.