Arab Weather - The outputs of the computer numerical models developed in the Arab Weather Center that sense the movements of air masses indicate that the Kingdom will continue to be affected during the coming days by the relatively cold and humid air mass flowing from the eastern European continent, so that the weather is very autumn and nice during the day and even tends to be cold above the heights High mountains, with the opportunity for showers of rain in some areas.
In the details, the Kingdom will continue to be affected on Tuesday by the relatively cold and humid air mass, so that there is a further decrease in temperatures and they are less than their rates for this time of the year by about 4-6 degrees Celsius, and the weather is pleasant autumn day tends to cold over high mountainous heights and cloudy Partially with the possibility of showers of rain, God willing, at intervals in separate areas of the western strip of the Kingdom, accompanied by the occurrence of thunder sometimes. And reefs and may form torrents, so it is advised to stay away from valleys and low-lying areas.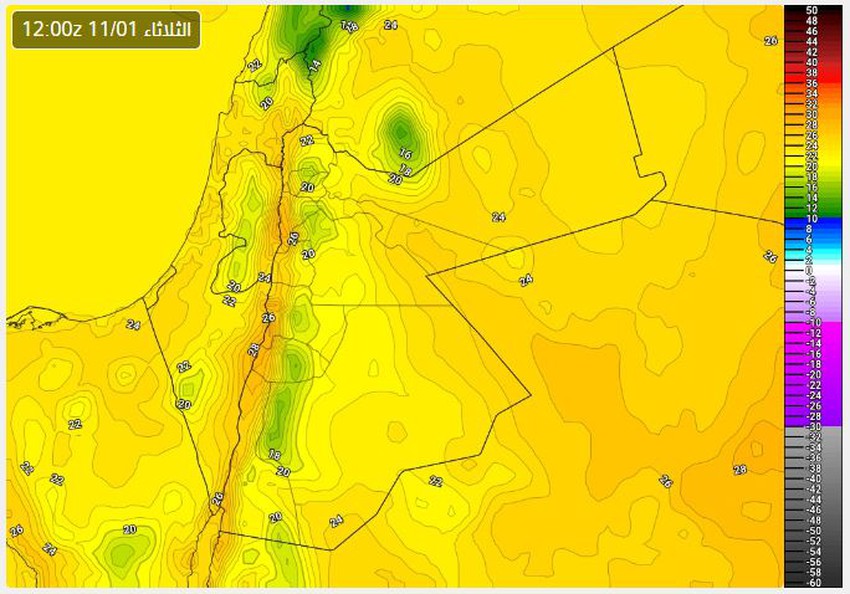 According to forecasters in the "Arab Weather", it is expected that there will be another decrease in night temperatures, and the weather will be relatively cold to cold in general and humid, and quantities of low clouds will appear, and it is expected that there will be renewed chances of fog formation over some areas of the eastern plains and desert roads, including Qatrana Road and Hasa. And the smallest in Amman and Jordanian cities is between 11-13 degrees Celsius, and less than that in the southern peaks, and such an atmosphere is not suitable for outdoor sessions, especially in mountainous regions and cities, and this requires wearing warmer clothes, especially in the late hours of the night and early morning hours, and using Various types of heating.
God knows.
This article was written originally in Arabic and is translated using a 3rd party automated service. ArabiaWeather is not responsible for any grammatical errors whatsoever.