Arab Weather - The Kingdom is affected, God willing, as of Wednesday morning hours, by a classified air depression of the third degree (medium to high effectiveness) according to the indicator for measuring the severity of air depressions developed by Arab Weather.
Cold air front and snow showers at 1000 meters on Wednesday morning
The Kingdom crosses a cold air front in the hours of Wednesday morning, so that the weather gradually turns to very cold, stormy and cloudy with showers of rain, God willing, in the north and center of the Kingdom in addition to the southern highlands, (Also, it is expected that the morning precipitation will be in the form of showers of hail and Snow over high mountainous altitudes that are more than 1000 meters above sea level and may extend below that height at intervals, and some accumulations are not excluded).

The level of snowfall during the day is 1200 meters above sea level
As for the rest of the day, showers of rain will continue to fall, God willing, in the north and center of the Kingdom in addition to Karak, sometimes mixed with snow over the tops of the heights, and then temporarily the level of snowfall rises to 1200 meters above sea level.
The return of low levels of snowfall during the evening and night of Wednesday/Thursday
Cold polar winds of Siberian origins rush to the Kingdom behind the depression. The weather is extremely cold and fluctuates between partly cloudy and cloudy with showers of rain and hail at intervals in different parts of the north and center of the Kingdom in addition to the Karak Governorate, and this extends Precipitation gradually during the night towards parts of the southern regions.
List the elevation of the Kingdom's regions above sea level from here
Snow also falls, but intermittently over the mountainous heights of more than 800 meters above sea level, and it accumulates from time to time and the higher the height above sea level. It is also not excluded that snow will fall again in some areas of the Eastern Badia.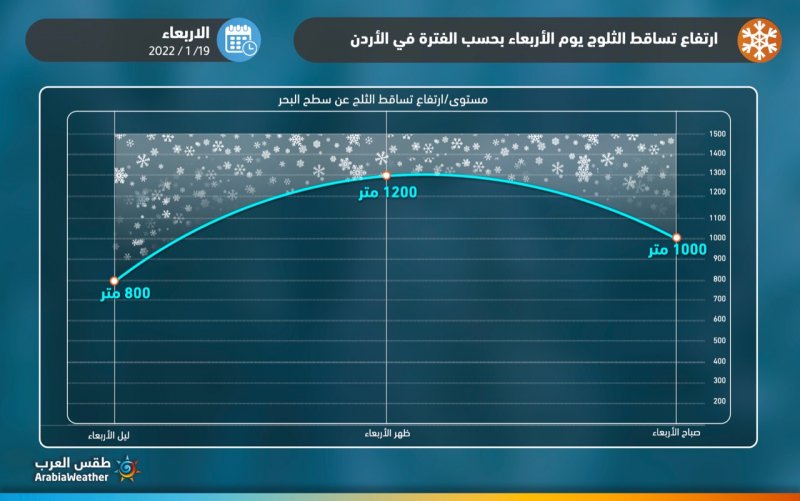 And in the late hours of the night, the chances of precipitation weaken, but this coincides with a further drop in temperatures to cause a strong wave of ice and freezing in most areas, including external and internal roads.
For more news, download the Arabia Weather app from here
God knows.
This article was written originally in Arabic and is translated using a 3rd party automated service. ArabiaWeather is not responsible for any grammatical errors whatsoever.