Arabia Weather - With the arrival of Monday evening, the depression began to move away from Jordan, which was accompanied by very heavy rainfall in several regions of the Kingdom and the recording of huge amounts of rain in some areas, which led to raising the performance of the current rainy season to a record and early rate for this. The time of year in most regions of the Kingdom, with rates ranging from 120% to 500%, thank God. The highest rainfall total recorded in the Kingdom among the meteorological monitoring stations affiliated with Arabia Weather during the period of the effect of the depression reached approximately 140 mm at the Ajloun monitoring station, achieving a quarter of its general seasonal average! It is also equivalent to 140 million liters of rainwater falling per kilometer of land area.
The Jordan Meteorological Department data also shows that most of Jordan's governorates have recorded an excellent performance for the rainy season up to this moment, in terms of exceeding the assumed rain rates to date. For example, the rain performance in Irbid reached around 334%, while in Ajloun and Jerash it ranged between 261% and 127%, and the capital and all the central regions also recorded excellent values, reaching an average of about 140%. The southern regions also recorded very excellent values, as approximately 70 mm of rain fell in Shobak during the last depression, with a performance approaching 500% compared to the assumed rate. As for the eastern regions (Al-Safawi, Al-Azraq Al-Janoubi), the rain is still somewhat weak until the last low air pressure, but we ask God that conditions will improve.
Below are the amounts of rain recorded from Arab weather monitoring stations until Monday evening:
Irbid: 100 mm, which is equivalent to 100 million liters per kilometer
Ajloun: 140 mm, which is equivalent to 140 million liters per kilometer
Jerash: 30 mm, which is equivalent to 30 million liters per kilometer
Salt: 60 mm, which is equivalent to 60 million liters per kilometer
Madaba: 34 mm, which is equivalent to 34 million liters per kilometer
Blue: 15 mm, which is equivalent to 15 million liters per kilometer
Mafraq: 38 mm, which is equivalent to 38 million liters per kilometer
West of Amman: 63 mm, which is equivalent to 63 million liters per kilometer
South Amman: 64 mm, which is equivalent to 64 million liters per kilometer
East Amman: 25 mm, which is equivalent to 25 million liters per kilometre
Karak: 43 mm, which is equivalent to 43 million liters per kilometer
Tafila: 45 mm, which is equivalent to 45 million liters per kilometer
Gluttony: 46 mm, which is equivalent to 46 million liters per kilometer
Gloss: 0
Aqaba: 0
Al-Ruwaished: It will be added when evidence becomes available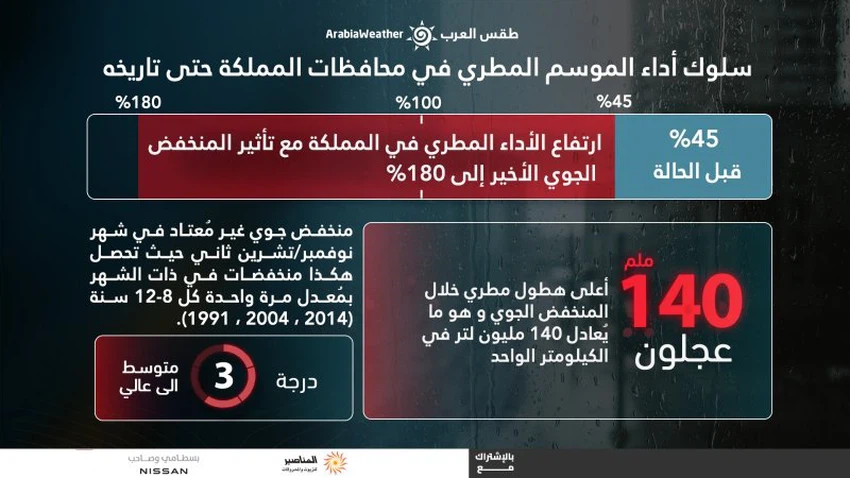 This article was written originally in Arabic and is translated using a 3rd party automated service. ArabiaWeather is not responsible for any grammatical errors whatsoever.