Weather of Arabia - The latest satellite images received at the Arab Weather Center and remote sensing stations show that the tropical cyclone Bebargui, which is classified as first-class, is currently stationed at latitude 14.3 degrees north and longitude 66.0 degrees east, and the wind speed around the center is estimated at ( 64-82) knots.
And specialists in the Arab Regional Weather Center closely follow the surrounding weather conditions in the tropical state, as the numerical models that sense the movement of the tropical state still offer several scenarios for the trajectory of the tropical state, due to several reasons, the most important of which are:
These models, which are operated by high-capacity computers, know the initial state of the atmosphere through meteorological observations, and thus suffer greatly from simulating the movement of the orbital state due to the weakness of data and the lack of quality weather and marine observations in the Arabian Sea.
Tropical conditions are a very complex atmospheric system, and many factors and atmospheric variables are involved in determining its course.
The instability of the distribution of air systems in the region and the locations and positioning of air elevations in the upper layers of the atmosphere, in addition to the behavior of jet winds.
And specialists in the regional "Arab Weather" center periodically review (around the clock) the outputs and analyzes of weather readings and issue updates if necessary.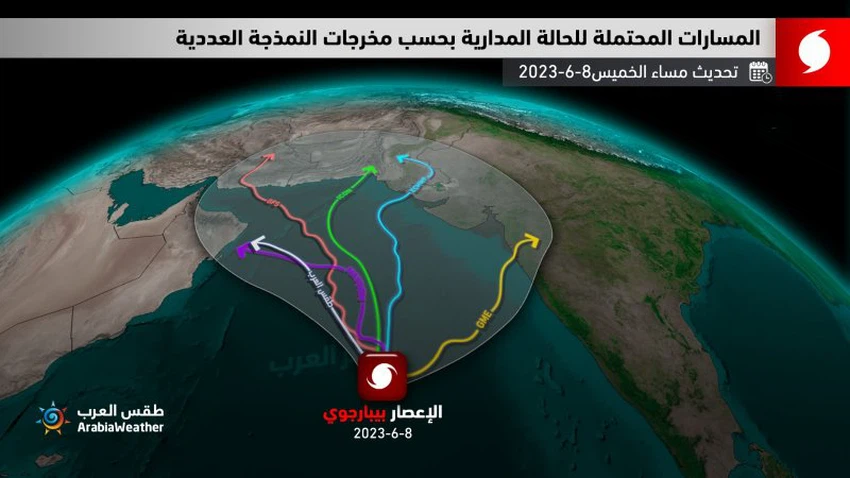 This article was written originally in Arabic and is translated using a 3rd party automated service. ArabiaWeather is not responsible for any grammatical errors whatsoever.