Arab weather - The current summer was characterized by the usual summer weather, and temperatures decreased on many days, accompanied by the activity of the western winds and some low humid clouds, which added coldness to the atmosphere during the night hours. This atmosphere will be deposited throughout the regions of the Levant in the coming days, as a hot air mass began From the Arabian Peninsula, it gradually approached the Kingdom as a result of the rush of a relatively cold air mass towards the center of the European continent.
Gradual rise in temperature in the coming days
In the details, there is a further rise in temperature during the weekend due to a rush of a hot air mass towards the Levant originating from the Arabian Peninsula, where temperatures are higher than their rates for this time of the year, and relatively hot to hot weather prevails in the mountainous heights, while it is severe The temperature is in the lowlands and the Badia, as the temperature is forty in those areas, and the temperature rises at night, with warm to relatively hot weather prevailing in all regions.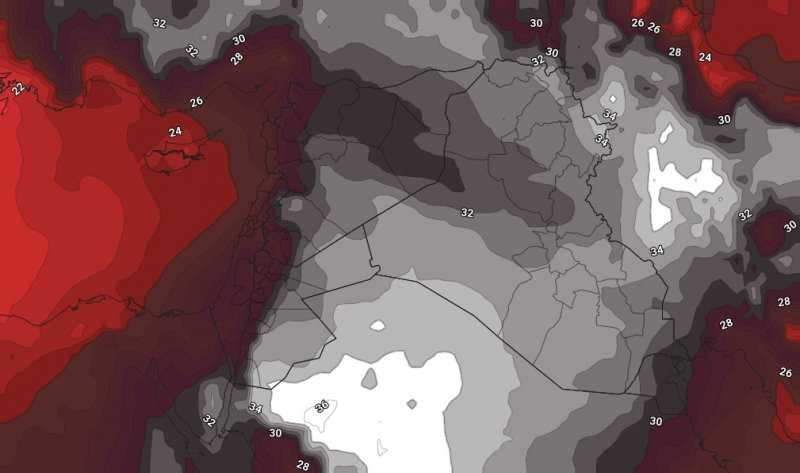 With the deepening of the hot mass on Sunday and Monday, temperatures rise to become much higher than their rates for this time of the year, and the weather is hot in the mountainous heights, especially during the afternoon and afternoon hours, while it is very hot in the low and desert areas, and the winds are west to northwest. Moderate speed, active in the afternoon, may raise some light dust in the eastern Badia regions, and hot weather is accompanied by dry weather due to the nature of the air mass with low humidity.
Arab weather advises citizens not to direct and prolonged exposure to the sun, especially during the noon and afternoon hours, and to avoid exerting physical effort during the peak heat hours, i.e. between 11 am and 5 pm, in order to avoid sunstroke.
The scientific reason behind the eruption of hot mass
The expectation comes with a rush of a hot air mass towards the atmosphere of the region, as a result of the rush of an upper air depression towards the southern parts of the Arabian Peninsula, as it is accompanied by a gentle and humid air mass, which results in a shift of the base of the subtropical air mass towards the north of the Arabian Peninsula, which coincides with the movement of a depression and cold air mass Relatively over the middle of the Mediterranean, the distribution of systems in this way works, God willing, to intensify the impact of the air altitude this time over the Levant and the north of the Arabian Peninsula and intensify the warm air mass accompanying it.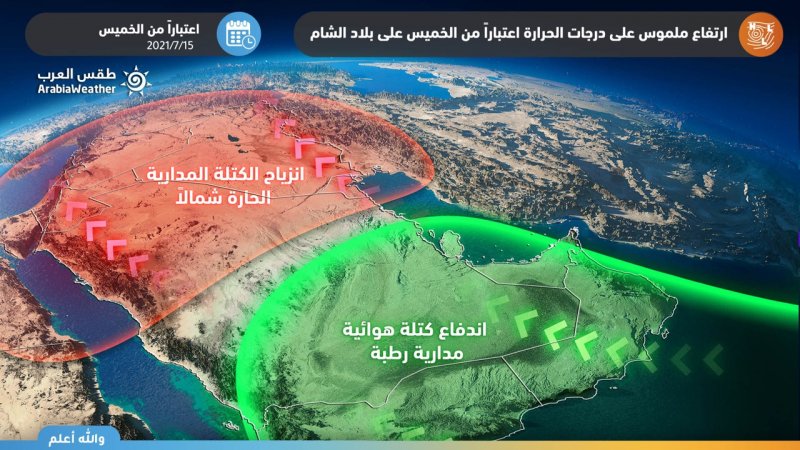 This article was written originally in Arabic and is translated using a 3rd party automated service. ArabiaWeather is not responsible for any grammatical errors whatsoever.