Arab Weather - Weather updates still indicate that the Kingdom is affected, as of Friday, by a hot air mass coming from the Arabian Peninsula, where temperatures rise significantly in all regions, and its impact is expected to increase and deepen on Saturday, causing hot and exhausting weather in all cities and governorates. Levant, God willing.
A hot air mass is gradually rushing towards the area
In the details, the temperatures begin to rise from Friday, and continue to rise on Saturday, so that the temperatures become around the mid-thirties in all the mountainous highlands, to become higher than their rates for this time of the year, and hot weather prevails in most areas, while the weather is severe. The heat is in the lowlands and the desert, and the temperature rises at night to bid farewell to the pleasant nights that the Kingdom experienced during the last period, so that moderate to warm weather prevails in all regions.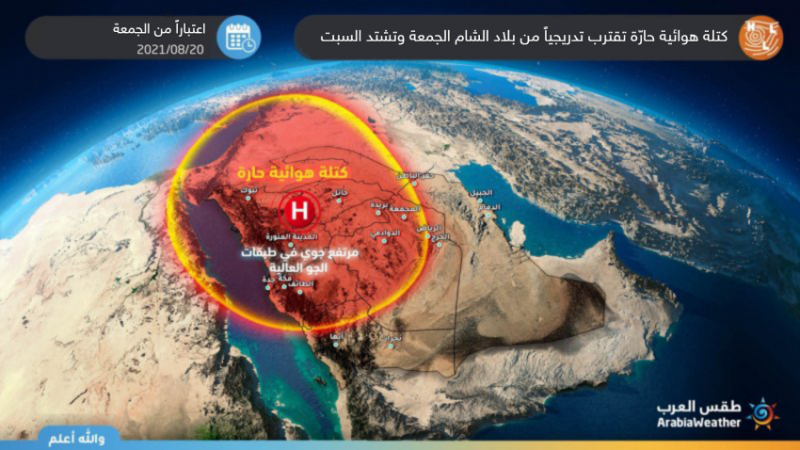 This comes as a result of building an air rise in the middle and high air layers in the north of the Arabian Peninsula, including the Levant, which is accompanied by a hot air mass originating from the desert of the Arabian Peninsula. Over the Arabian Peninsula and between the extension of the gentle heat masses rushing across the Mediterranean, the effect of one mass over the other depends on the distribution of the atmospheric systems in the northern hemisphere.
Arab weather advises citizens not to direct and prolonged exposure to the sun, especially during the noon and afternoon hours, and to avoid exerting physical effort during the peak heat hours, i.e. between 11 am and 5 pm, in order to avoid sunstroke.
In contrast to expectations of a rise in temperatures, but it is not expected to rise to the so-called heat wave, as expectations indicate that the temperature will not rise much above its rates, and in order for it to become a heat wave, the temperature must at least exceed its general rates by five degrees Celsius or more, and for a period of three Continuous days at least and over a wide geographical area.
In light of the expected hot weather, we kindly ask you to adhere to the following tips and recommendations:
Avoid direct and long exposure to the sun in all regions of the Kingdom, especially during noon and afternoon hours.
Drink a lot of cold and hydrating fluids.
Be careful not to leave children and infants inside closed vehicles to avoid serious health problems.​
Wearing hats and sunglasses, especially for people working in the construction sector or agriculture, whose nature of work requires staying under direct sunlight for long periods.
This article was written originally in Arabic and is translated using a 3rd party automated service. ArabiaWeather is not responsible for any grammatical errors whatsoever.