Arab weather - all regions of the Levant live in a relatively hot atmosphere and temperatures above their normal rates, as the region is still under the influence of an atmospheric high in the upper layers of the atmosphere, and the Department of Operations and Weather Forecasts in Arab Weather is closely monitoring the outputs of the weather maps, which indicate that A drastic change is expected in the weather as of Sunday, represented by a significant decrease in temperatures in all regions, and here are the details:
A noticeable change in the distribution of air systems
Significant drop in temperatures from Sunday
In the details, it is expected that an autumn air mass will advance over the region, blowing the country with refreshing autumn breezes, so that mild autumn weather will prevail in the mountainous heights on Sunday, which will turn cold in the mountainous heights as of Monday. To northwesterly moderate speed, active sometimes and leads to raising dust, especially in desert and open areas.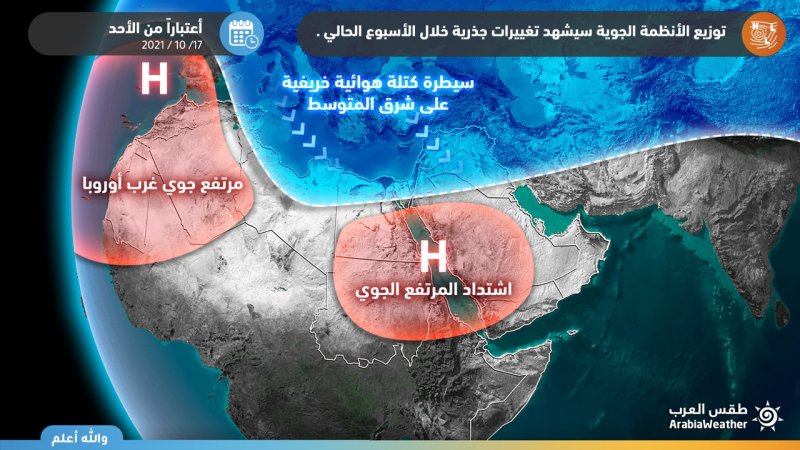 Autumnal breezes appear clear during the night hours, when cold weather prevails, especially in the mountainous heights and the plains, while it is cold in the low areas, with a rise in surface moisture levels and the formation of low clouds and fog in the high mountains and plains, and it is expected that the smallest approaches in some mountain peaks from the countries of Sham from the 12°C barrier.
It is expected that the opportunity will be prepared for rain on the coastal strip of the Levant, so that the rains will be of varying intensity and heavy at times, which may lead to the formation of torrents. Northern and central Palestine and Jordan with local and limited showers of rain.
This atmosphere comes as a result of the expectation that the air systems in Europe and North Africa will change during the current week and the rule of a completely different atmosphere, God willing, so that an air rise rushes towards important areas of the south and west of the European continent, working to push the air masses with temperatures below normal rates east towards Turkey and the Levant.
In this atmosphere, the Arab Weather Center warns of thermal fluctuations and an increase in the chances of catching colds and seasonal diseases, as well as the possibility of torrential rains forming in parts of Syria and Lebanon.
This article was written originally in Arabic and is translated using a 3rd party automated service. ArabiaWeather is not responsible for any grammatical errors whatsoever.