Weather of Arabia - The latest atmospheric readings of computer simulation models of the movement of air masses in the European continent and the Levant indicate that after temperatures return to the context of their usual rates on Wednesday, it is expected that all countries of the eastern basin of the Mediterranean, including the Levant, will be affected by a warmer air mass than usual It was launched from the African desert during the first days of April 2022, which coincides with the beginning of the blessed month of Ramadan, God willing.
Regarding the details, weather forecasters at the Arab Regional Weather Center say that cold air of polar origin will rush from western European continent to northwestern parts of Africa, such as Algeria and Tunisia, and on the other hand, in such weather patterns, a reverse state of air flow occurs, so that this flow accompanies Cold air has another flow of hot air in the form of a belt of warm air that extends to the eastern Mediterranean and Levant regions and is accompanied by the effect of an atmospheric high in the higher layers of the atmosphere.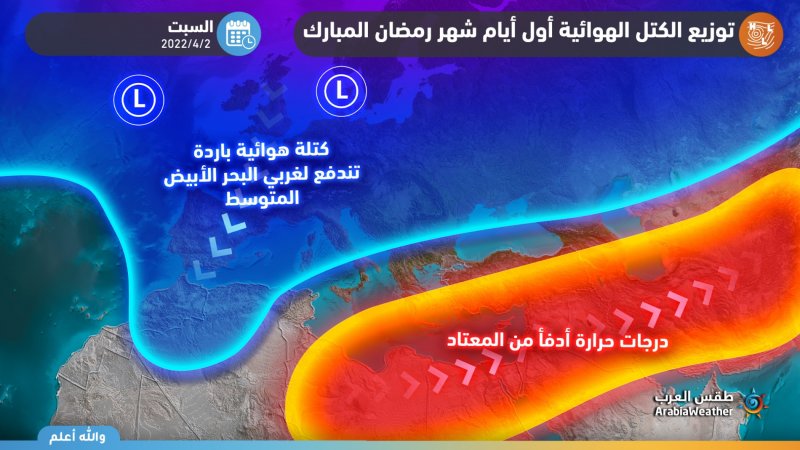 And weather forecasters add that with regard to temperatures, they will rise, God willing, to more than their usual rates for this time of the year by more than 8-10 degrees Celsius in all regions of the Levant, so that the maximum temperatures in many major cities in the Levant exceed 30 degrees Celsius In many villages and major cities, and more so in low-lying areas, the weather will be dry, since the expected mass is from a desert source.
And this atmosphere comes scientifically; As a result of expectations of the extension of cold upper basins from the European continent to northwest Africa during the first days of the blessed month of Ramadan, God willing, and as a reaction, the high-pressure air masses respond to them over the Great African Sahara, forming an upper bulge (a raised upper extension) that pushes air currents warmer than Normal in the upper and middle layers of the atmosphere towards the eastern Mediterranean, the change occurs in the upper layers of the atmosphere and is reflected successively on the lower layers as part of the atmospheric dynamics.
God knows
This article was written originally in Arabic and is translated using a 3rd party automated service. ArabiaWeather is not responsible for any grammatical errors whatsoever.