Weather of Arabia - Weather updates still indicate an expected continuation of a hot air mass coming from the Arabian Peninsula over the whole regions of the Levant at the end of the week, as temperatures are recorded in the mid-thirties in most mountainous regions, which causes a hot and exhausting atmosphere in all cities and governorates. Bilad al-Sham on Friday and Saturday, God willing, and here are the details:
It approaches 40 in Damascus and exceeds 35 in Jerusalem and Amman
Details of the hot mass affecting the area
In the details, it is expected that all regions of the Levant will continue to be directly affected by the hot air mass during the weekend, reaching a maximum around 40 degrees Celsius in many areas, especially the capital Damascus, while it is around the mid-thirties Celsius in Jerusalem and Amman, and lower than that. Slightly in Beirut, as the temperatures are higher than their usual rates for this time of the year, and the weather turns to become hot in most areas, especially with the noon and afternoon hours, while it is very hot in the low areas, and the hot weather is accompanied by dry weather due to the nature of the air mass With low humidity.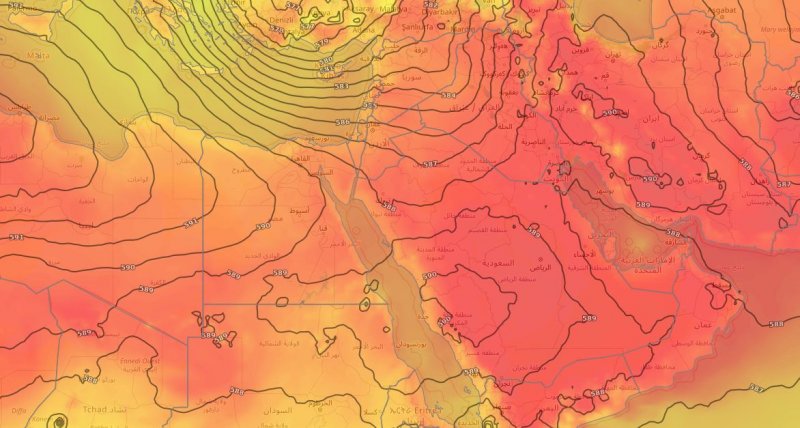 At night, there is a noticeable rise in night temperatures, and the weather is generally warm in most areas, while it tends to heat in low areas, and the winds are generally moderate in speed, coinciding with high surface humidity levels in the western mountain slopes of the Levant, which May create a fine mist.
Suggested topics:
What is the highest temperature that the human body can withstand?!
Turkey's fires spread to vital sites and the evacuation of a thermal power plant threatened by raging fires
When reviewing the expected temperatures in Al-Quds Al-Sharif, for example, for the next five days, it is not expected that there will be a significant change in temperatures during the weekend, so that it will be around the mid-thirties in the mountainous highlands, while the temperature will be forty in the low and Badia regions, while temperatures tend to The temperature will drop a bit at the beginning of next week.
Important recommendations from Arabia Weather:
Avoid exposure to the sun all hours of the day.
Drink plenty of cold fluids and refreshments throughout the day and even at night, even if you are not thirsty.
It is advisable not to exert physical exertion outside most of the time, because very high temperatures will lead to a rise in the so-called heat stress.
Attention not to leave sterilizers and any flammable materials inside the vehicles.
Attention not to leave children inside vehicles, even for a short period of time.
This article was written originally in Arabic and is translated using a 3rd party automated service. ArabiaWeather is not responsible for any grammatical errors whatsoever.