Arab weather - the various regions of the Levant live in the reality of summer and temperate weather, where an air high dominates the regions of northwest Africa, extending to parts of the south and central European continent, as temperatures in those regions record temperatures much higher than their rates, which allowed the air masses to rush The cold weather towards the east of the European continent resulted in the blowing of air currents with temperatures below their normal rates towards the region.
Generally fair weather on Wednesday
The whole region of the Levant continues to be affected on Wednesday by the moderate air mass, so that the temperature will be in the range of 26-28 degrees Celsius in the mountainous heights, to be slightly lower than its rates for this time of the year. To raise dust and dust in the atmosphere in parts of Syria and the interior of the eastern Jordanian Badia.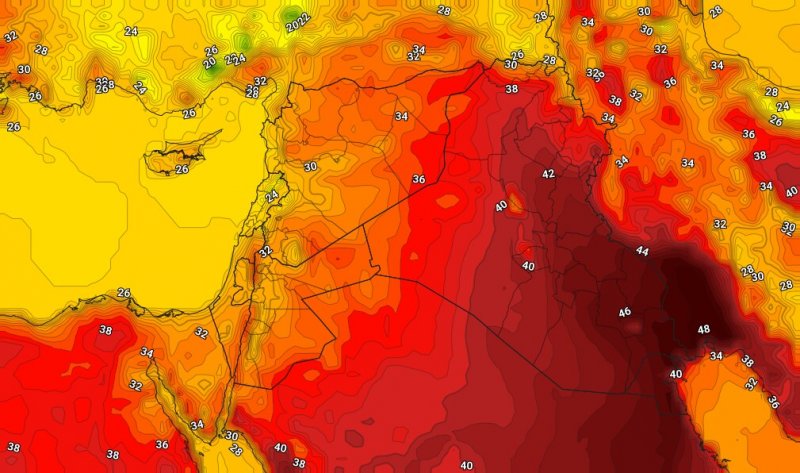 During the night hours, the weather is pleasant in all regions, while it tends to be cold over the mountainous heights and the plains with the late night hours. Humidity levels rise and light fog forms in parts of the mountain slopes of the Levant, especially the western ones.
An escalating rise in temperature from Wednesday
The moderate-temperature air mass that affected the Levant during the past days is retreating westward, i.e., away from the region, starting on Thursday, to rush hot air currents coming from the desert of the Arabian Peninsula, bringing with it a rising rise in temperatures slightly above their general averages, to be the greatest by the end of the week In the mid-thirties Celsius in most major cities, and relatively hot summer weather prevails in the mountainous highlands, while it is remarkably hot in the desert and low-lying areas.

With the control of an air mass with temperatures higher than its normal rates, the weather is not suitable for going out on trips and practicing outdoor activities, especially in the regions of the region, and Arab weather warns against direct exposure to sunlight directly for a long time and advises drinking a lot of fluids.
Weather condition and expected temperatures in the capitals of the Levant on Wednesday 23-06-2021:
The weather in Al-Quds Al-Sharif
Clear
The expected maximum temperature in Jerusalem: 27 °
The expected minimum temperature in Al-Quds Al-Sharif: 20 °
Clear
The expected maximum temperature in Amman: 29 °
The expected minimum temperature in Amman: 19 °
Clear
The expected maximum temperature in Damascus: 34 °
The expected minimum temperature in Damascus: 20 °
Clear
The expected maximum temperature in Beirut: 27 °
The expected minimum temperature in Beirut: 21 °
More details about the weather and temperatures during the coming period via the 6-30 day bulletin on the Arab Weather app.
This article was written originally in Arabic and is translated using a 3rd party automated service. ArabiaWeather is not responsible for any grammatical errors whatsoever.