Weather of Arabia - It is expected that all cities and governorates of the Levant will be more affected during the weekend by the relatively hot mass coming from the desert of the Arabian Peninsula, so that temperatures continue to rise to become higher than their normal rates.
More hike this weekend
It is expected that temperatures will tend to rise on Friday and Saturday, so that temperatures will become slightly above their monthly averages, so that summer weather will be relatively hot in the mountainous heights, while it is remarkably hot in the low and desert areas, and the winds will be west to northwest, moderate in speed, active in the afternoon to work On raising dust and dust in the atmosphere in parts of Syria and the interior of the eastern Jordanian Badia.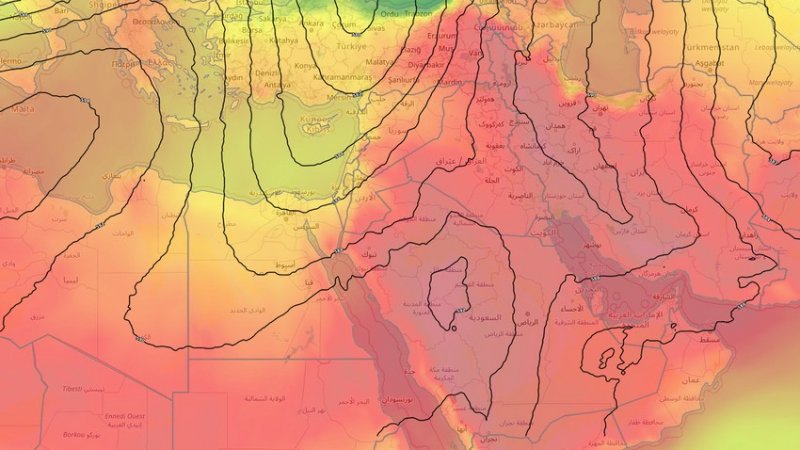 During the night hours, the weather is moderate in most areas, while it tends to be warm in the low areas. Humidity levels rise and light fog forms in parts of the mountainous slopes of the Levant, especially the western ones.
Indications of an additional rise in temperature at the beginning of the week
Arab Weather notes the need to follow up on the latest reports issued periodically to know the latest developments related to hot weather and the increasing possibility of a temperature rise at the beginning of next week, as the impact of the upper air altitude is expected to increase over the region, and the hot air currents rushing from the Arabian Peninsula, which It will continue and increase in the heat during the day, while the atmosphere becomes remarkably warm during the night hours.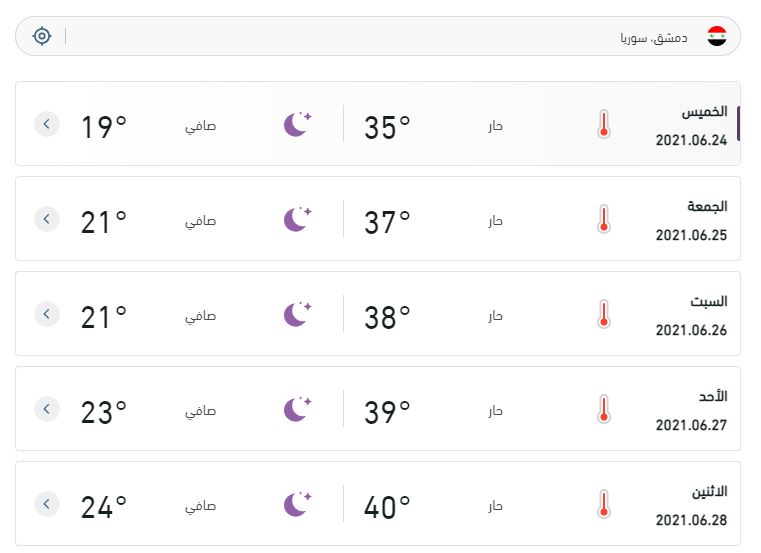 In contrast to expectations of a rise in temperatures, but it is not expected to rise to the so-called heat wave, as expectations indicate that the temperature will not rise much above its rates, and in order for it to become a heat wave, the temperature must at least exceed its general average by five degrees Celsius or more, and for a period of three Continuous days and more and over a wide geographical area.
Weather condition and expected temperatures in the capitals of the Levant on Friday 06-25-2021:
The weather in Al-Quds Al-Sharif
Clear
The expected maximum temperature in Al-Quds Al-Sharif: 31 °
The expected minimum temperature in Al-Quds Al-Sharif: 22 °
Clear
The expected maximum temperature in Amman: 32 °
The expected minimum temperature in Amman: 20 °
Hot
The expected maximum temperature in Damascus: 37 °
The expected minimum temperature in Damascus: 21 °
Clear
The expected maximum temperature in Beirut: 29 °
The expected minimum temperature in Beirut: 23 °
More details about the weather and temperatures during the coming period via the 6-30 day bulletin on the Arab Weather app.
This article was written originally in Arabic and is translated using a 3rd party automated service. ArabiaWeather is not responsible for any grammatical errors whatsoever.