Arab weather - It is expected that the mild summer weather will continue during the first half of the week, while the latest updates of the numerical models operating indicate an expected return to the relatively hot summer weather to hot towards all regions of the Levant during the second half of next week, following the rush of air currents from the peninsula Arabia is characterized by heat and dryness towards the region. It is worth noting that next Monday coincides with the summer solstice and the beginning of the astronomical season in the northern hemisphere, during which the sun is at its highest height at noon above the horizon, and perpendicular to the Tropic of Cancer.
Mild summer weather the first days of the week
The rest of the Levant region continues to be affected by a moderately hot air mass with values lower than the general rates during the first half of the week, so that moderate summer conditions prevail in most regions, while the weather is hot in the eastern parts of Syria and Jordan, and as a result of the distribution of weather systems, the western winds are active in Many areas are dusty and dusty, especially in the Syrian and Jordanian Badia and the desert areas.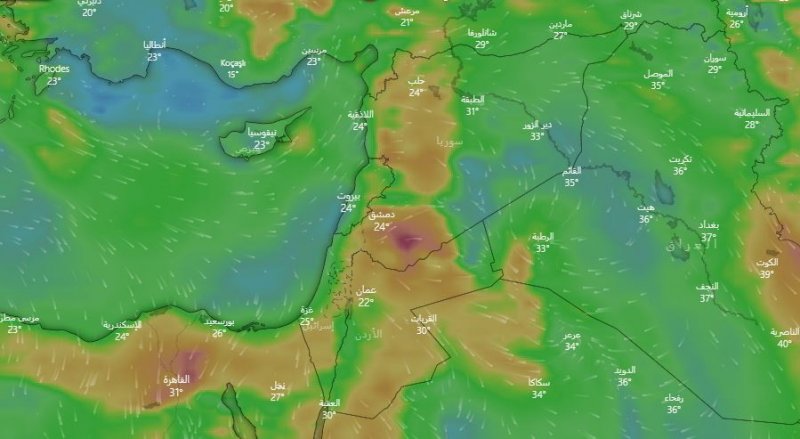 During the night hours, the weather is generally nice and humid, while it tends to get cold during the late night, especially in the mountainous areas and the plains. Humidity levels rise, low clouds appear, and light fog forms on the mountain slopes overlooking the Mediterranean Sea of Syria and northern Lebanon.
An escalating rise in temperature from Wednesday
The moderate-temperature air mass that affected the Levant during the past days is retreating westward, i.e., away from the region, starting on Wednesday, to rush hot air currents coming from the desert of the Arabian Peninsula, bringing with it a rising rise in temperatures slightly above their general rates , to be the greatest by the end of the week In the mid-thirties Celsius in most major cities, and relatively hot summer weather prevails in the mountainous highlands, while it is remarkably hot in the desert and low-lying areas.

In contrast to expectations of a significant increase in temperatures as of Wednesday, but it is not expected to rise to the so-called heat wave, as expectations indicate that the temperature will not rise much above its rates, and until it becomes a heat wave, the temperature must at least exceed its general average by five degrees. percentage or more, for a period of three continuous days or more, and over a wide geographical area.
This article was written originally in Arabic and is translated using a 3rd party automated service. ArabiaWeather is not responsible for any grammatical errors whatsoever.