Arab Weather - The latest outputs of the numerical weather models processed by the Air Operations Department at the Arab Regional Weather Center indicate expectations for the continuation of the impact of air currents with temperatures below their averages coming from the Mediterranean Sea, and accompanying the moist air mass during the coming days.
Temperatures continue to be below average
It is expected, God willing, that temperatures will continue below their averages for this time of the year in the coming days, as temperatures will be in the early 20s in the capital, Tripoli, and the weather will be mild in most of the northern and northwestern states in particular, pleasant to cold in the highlands. Mountainous, relatively hot in the rest of the regions, with the appearance of clouds at different altitudes.
Winds from different directions are sometimes brisk
Winds will continue to blow from different directions over the country during the coming days, be light to moderate in speed in general, may sometimes be active over some areas, and they will raise dust and dust, including the capital, Tripoli.
Relatively cold to cold nights continue
The weather during the late night hours continues to be relatively cold to cold in most of the northwestern states, while it continues to be pleasant in the rest of the regions. It tends to be cold at the late night hours in some parts, with a rise in surface humidity, and fog is likely to form over parts of the country.
Unstable weather conditions continue and indications of their increase in some areas at the end of the week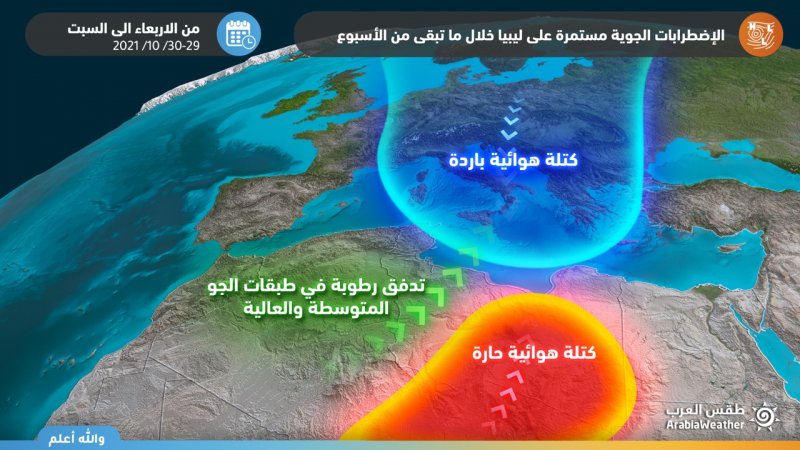 According to the latest outputs of the processed numerical weather models, the flow of hot air currents continues in the lower layers of the atmosphere, coinciding with a cold air mass in the upper layers of the atmosphere over the Mediterranean Sea, with an increase in humidity in the middle and high layers of the atmosphere, as a result of this dumping, the emergence of unusual weather conditions continues stable over the country, especially in coastal areas.
Thunder showers of rain fall, sometimes heavy, accompanied by hail showers, which are unlikely to be heavy at times, and according to the processed computer outputs, parts of the country are expected to be more affected by weather turbulence during the weekend.
Consequently, warnings and recommendations continue to be made to pay attention to the danger of torrential rains and high water levels on the roads.
For more news, download the Arab Weather app from here
God knows.
This article was written originally in Arabic and is translated using a 3rd party automated service. ArabiaWeather is not responsible for any grammatical errors whatsoever.