Weather of Arabia - The latest weather maps, resulting from the so-called computer simulation, indicate expectations that Morocco and Algeria will be affected by atmospheric disturbances at the end of the week. Resulting from the deepening of a cold upper basin in the upper layers of the atmosphere and its convergence with a desert depression from the south, in addition to that this convergence coincides with the flow of moisture in the different layers of the atmosphere, so that the opportunity is gradually created on the evening and night of Thursday / Friday for rain on the northern highlands of Morocco and It extends to some northern coastal areas, provided that the rains gradually cover several parts of northern Algeria on Friday and Saturday, God willing.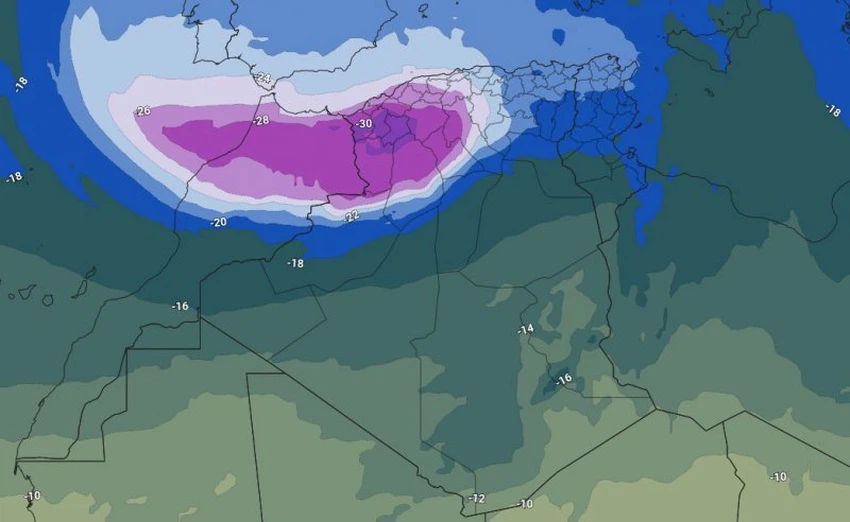 And the weather maps in the Arab Weather Center indicate that the local cumulus formations are expected to gradually multiply during the afternoon and evening hours of Thursday on the northern highlands of Morocco, and intensify at night so that the rain is sometimes heavy and accompanied by the occurrence of thunder and rain clouds extend to some northern coastal areas of Morocco. . And the same maps show that the chances of rain are expected to include western Algeria after midnight hours on Thursday/Friday, and the rain patch will gradually expand on the western regions and some central regions on Friday, so that it includes most of the central regions with the night hours.
As for Saturday, a noticeable decrease in temperatures is expected in most regions of Morocco and Algeria, on the contrary, Tunisia is affected by a warm air mass. And there will remain, God willing, chances of rain in several parts of northern Morocco, including the northern coastal regions, and parts of northern Algeria, including the capital, and it is possible that sporadic and random showers of rain will fall on Tunisia.
According to the computer outputs, it is expected that the weather disturbances will be strong in parts of northern Algeria and Morocco, so that the rain will be heavy and sometimes accompanied by heavy hail, which will lead to the flow of valleys and reefs, and may form torrential rains in some areas.
God knows.
This article was written originally in Arabic and is translated using a 3rd party automated service. ArabiaWeather is not responsible for any grammatical errors whatsoever.