Weather of Arabia - The Middle East University and the Arab Weather group of companies signed a cooperation agreement with the aim of enhancing and developing knowledge in the field of meteorology and other fields and disciplines.
The Middle East University was represented by the University President, Prof. Dr. Salam Mahadin, and the University's legal advisor, Prof. Dr. Anis Mansour, and on behalf of the group, CEO Muhammad Al-Shaker and General Manager of ArabiaWeather Fares Shaaban.
Areas of cooperation between ArabiaWeather and the university include providing training courses and specialized diplomas in meteorological sciences and other fields such as entrepreneurship, artificial intelligence, media, in addition to many educational fields compatible with the requirements of the labor market.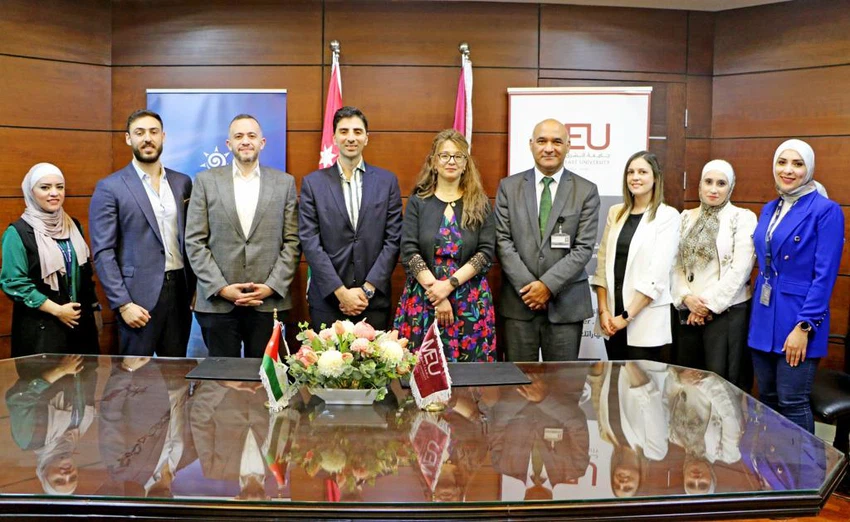 This partnership will contribute to supporting youth capabilities and promoting sustainable development in the meteorology sector and a number of sectors and specializations, in addition to providing comprehensive and specialized programs in a distinguished educational environment, aiming to develop competencies and skills necessary to keep pace with scientific and technological progress and challenges in the field of meteorology.
During this, the President of the University, Dr. Al-Mahadin, said that this agreement serves as a bridge that connects students to the techniques of the meteorologist and other fields, which makes them qualified to analyze weather data, make accurate forecasts, and communicate weather information to the public effectively, stressing the pivotal role of "Arabian weather." " In this area.
For his part, Al-Shaker praised the youth's energies and his pride in the ideas presented by the students, and affirmed his constant keenness to support young people and help them achieve progress and innovation, and that through this cooperation we will work with students to enhance their capabilities and provide them with the skills and experiences necessary for success and progress in life. The university considers it for bilateral partnerships, especially with its continuous investment in youth energies and directing them towards the right path to achieve sustainable development.
This partnership between the Middle East University and ArabiaWeather is a distinguished step for the exchange of knowledge and education, the promotion of strategic cooperation between the private and academic sectors in the Kingdom and the region in general, and the improvement of youth capabilities and providing them with the skills and expertise necessary to move forward towards their goals.
This article was written originally in Arabic and is translated using a 3rd party automated service. ArabiaWeather is not responsible for any grammatical errors whatsoever.