Arab weather - Large parts of the European continent are exposed to heat waves caused by the rush of a hot air mass of African origin, and its impact is expected to continue until the first week of June, coinciding with the prevailing of a mild summer atmosphere in the Levant and temperatures close to their usual rates.
Weather forecasters at the Arab Regional Weather Center say that this atmosphere is due, God willing, to the distribution of weather patterns in the upper layers of the atmosphere, where a strong air pressure affects large parts of the European continent, especially in its south and center, all the way to the Scandinavian countries, and as a result, cold air masses descend around This high rise directly to eastern Europe and Turkey, and then the eastern basin of the Mediterranean, to reach the Levant in the form of moderately warm air masses.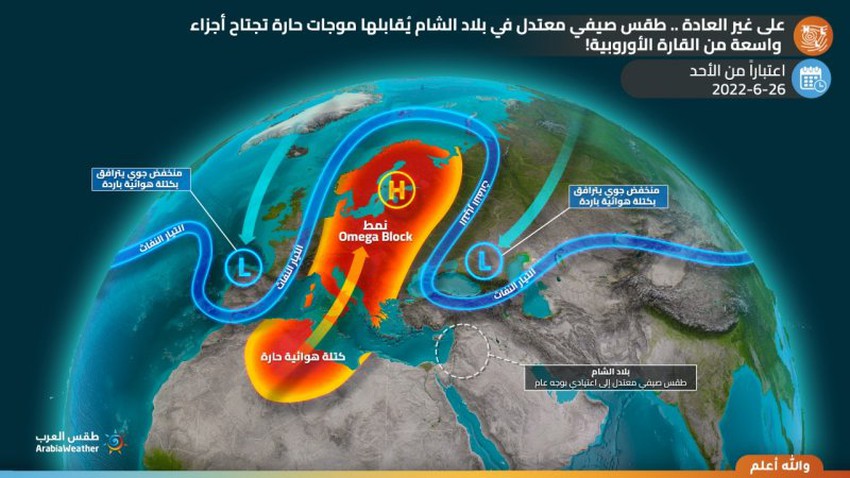 With expectations of a stable distribution of air systems (two depressions over eastern and western Europe, in the middle of them is an air rise in the form of the Omega Block), which in turn leads to the continuation of the flow of hot air currents starting from the north of the African continent and extending to the European continent until at least the first week of June.
The Levant is positively affected by this distribution in atmospheric patterns, so that the subtropical jet stream activates in the north of the Arabian Peninsula, which leads to the construction of the upper air altitude eastward from the Levant, so that the surface is devoid of deep low atmospheric pressure centers, which contribute to the circulation of winds and bringing hot masses Especially from southern Iraq and the Arabian Gulf Basin, so the mild to normal summer weather continues to prevail in the Levant until the first week of the islands, amid nice nights in the mountainous heights, God willing.
This article was written originally in Arabic and is translated using a 3rd party automated service. ArabiaWeather is not responsible for any grammatical errors whatsoever.