Arab weather - A strong earthquake of 7.2 degrees shook Haiti in the morning hours of Saturday, leaving great destruction, as the temporary death toll of the earthquake victims rose to about 7,000 people, dead and injured, and because misfortunes do not come singly, Haiti is preparing to receive a tropical storm during the hours of Monday night / Tuesday, accompanied by strong winds and heavy rain in many areas, and here are the details:
Tropical Storm Grace hits Haiti
In the details, a system of low pressure developed over the southeastern part of the Gulf of Mexico into a tropical storm with the hours of the day on Sunday, where, according to the latest readings, the average wind speed around its center reaches 35 knots, and the storm continues in the coming hours to move towards the Dominican Republic to continue Its path towards Haiti to hit it in the late night hours of Monday/Tuesday, God willing, accompanied by strong winds and heavy rain that may exceed the 150 mm barrier in just 24 hours.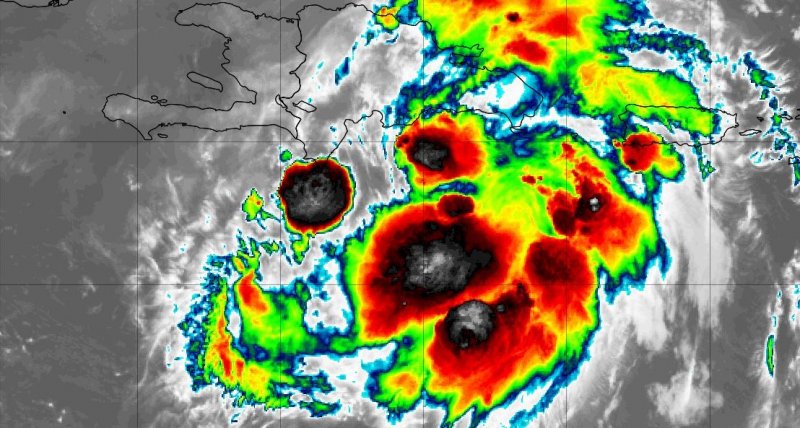 In the order of nomenclature of tropical states in the Atlantic Ocean, Storm "Grace" was named, becoming the seventh named tropical system in the Atlantic Ocean this year.
Read also: The death toll from the devastating earthquake in Haiti has exceeded 1,297
Learn about Atlantic hurricane season
It is worth noting that during the period from June to November of each year, the season of hurricanes and tropical states begins in the mid-Atlantic and gradually moves towards the Gulf of Mexico or the eastern coasts of the United States of America, where its activity peaks during the month of September, and the MDR hurricane development area experiences higher temperatures From their normal levels, where warm water and a lot of moisture help the atmospheric turbulence to gain strength, warm water is a fuel for tropical states.
In addition, the shear winds are slow, and this is due to the movement of surface and deep sea currents, which follow several weather conditions, including the movement and flow of winds from east to west, which means that wind speed and directions do not change much as they rise in the atmosphere, and this is important because these winds It can prevent convection from growing.
This article was written originally in Arabic and is translated using a 3rd party automated service. ArabiaWeather is not responsible for any grammatical errors whatsoever.